By James Davey
LONDON (Reuters) - Sportswear and fashion retailer JD Sports Fashion (JD.L) predicted a fillip to sales from the soccer World Cup as it beat forecasts with a 26 percent jump in full year profit and hiked its final dividend 65 percent.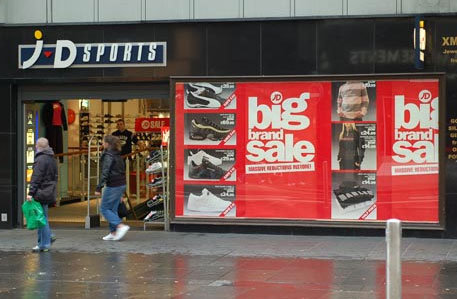 JD Sports shop
Chief Executive Peter Cowgill said the firm, which trades as JD Sports, Chausport, Size, Bank and Scotts from over 530 stores, has put together footwear and apparel ranges focussed on the World Cup finals, being held in South Africa from June 11.
"We want to capitalise on the following and the feel-good factor. We would be hopeful that if England are successful there is a movement towards sports and leisurewear," he told Reuters.
"You'd have to say success is (England) getting to the semi-finals," he said.
Shares in JD Sports were up 0.14 percent at 734.5 pence at 10:51 a.m., valuing the business at about 344 million pounds.
Some 57 percent of the shares are owned by sportswear company Pentland, while Mike Ashley's Sports Direct International (SPD.L) owns 12 percent.
JD Sports made an underlying pretax profit of 67.4 million pounds for the full year to January 30.
That compares with analysts' consensus forecast of 61.6 million pounds, according to Thomson Reuters I/B/E/S, and 53.6 million pounds made in the previous year.
Revenue increased 14.8 percent to 769.8 million pounds as the firm benefited from store closures by struggling rival JJB Sports (JJB.L), which came close to administration in 2009.
JD Sports was also boosted by the popularity of exclusive product from external brands such as Nike (NKE.N) and Adidas (ADSG.DE) and owned brands, such as McKenzie and Carbrini.
"In our field we are the trend setters rather than the trend followers," said Cowgill.
Sales at stores open over a year were up 2.5 percent and gross margin was maintained at 49.3 percent.
Like-for-like sales were up 2.0 percent in the 10 weeks to April 10.
The firm, which ended the period with net cash of 60.5 million pounds, increased its final dividend to 14.7 pence, making 18.0 pence for the year, a 50 percent rise.
"Overall these figures are excellent and should ripple through to more upgrades," said Mark Photiades, analyst at Singer Capital Markets.
He envisages upgrades to year to end-January 2011 pretax profit forecasts of about 8 percent to 71 million pounds.
The forecast comes as British retailers are seen emerging from a deep recession.
On Tuesday 13 April a British Retail Consortium survey said retail sales jumped at their fastest pace in a year in March.
But store groups are wary that moves to reduce government debt after the May 6 general election, like hiking taxes and cutting public spending, could derail a fragile recovery.
(Editing by Paul Sandle and Sharon Lindores)
© Thomson Reuters 2023 All rights reserved.