JD Sports defies snow to beat year profit view
Jan 7 - British clothing and footwear retailer JD Sports Fashion said it will beat a 75 million pound annual profit forecast, after its Mckenzie, Carbrini and Duffer brands drove better-than-expected Christmas sales.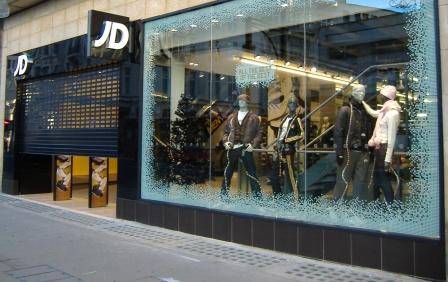 JD Sports on Oxford Street, London
In contrast to a raft of retailers who have complained this week that the snow which gripped the UK in December had dented sales over the festive period, JD Sports said on Friday it had been largely unaffected.
The firm, which trades as JD Sports, Size, Bank and Scotts, said sales at stores open over a year increased by 2.5 percent in the five weeks to Jan. 1, taking the cumulative 48 weeks figure to a rise of 3.1 percent.
It said retail gross profit margins were also maintained from the previous year.
"The board now believes the group will exceed current market expectations for group profit before tax and exceptional items for the current financial year," (to end-Jan. 2011) it said, noting the consensus before Friday's update was 75.4 million pounds ($117 million), up from 67.4 million pounds in 2009-10.
Chief executive Peter Cowgill praised his staff for keeping stores going during the adverse weather and highlighted strong demand for the firm's own brand products.
"We've got some great own brands, Mckenzie, Carbrini and Duffer in particular have performed very well indeed. There's a great appetite from the consumer for those brands," he told Reuters.
Prior to Friday's update shares in JD Sports had risen by 71 percent over the last year, outperforming a broadly flat general retailers index .
The stock was up 2.8 percent at 891.5 pence at 1034 GMT, valuing the business at 442 million pounds.
"In light of the adverse weather conditions...the performance over the key Christmas period should be viewed as a superb achievement and a stand-out in the sector," said Singer Capital Markets analyst Mark Photiades, who expects consensus forecasts to move up to about 79 million pounds.
Many retailers fear the 81 billion pounds of spending cuts announced by the government last October, as well as tax rises, a slowing housing market and hikes in transport and fuel costs will hit consumer demand in the months ahead.
Retailers also face inflationary pressures from increased raw material prices and higher freight and wage costs.
Despite this Cowgill said he would be disappointed if JD Sports did not achieve profit growth in 2011-12.
By James Davey
(Editing by Mark Potter and Alexander Smith)
© Thomson Reuters 2023 All rights reserved.