JC Penney begins overhaul
During the presentation of its annual results in January, JC Penney announced its ambition to become America's favorite store. With a nearly 3% decline in sales or 5.4 billion euros in 2011 compared to 2010 and, particularly, with an operating profit that went from a surplus or 458 million dollars to a loss of 73 million in 2011, the group seems to be in the midst of somewhat of a downturn.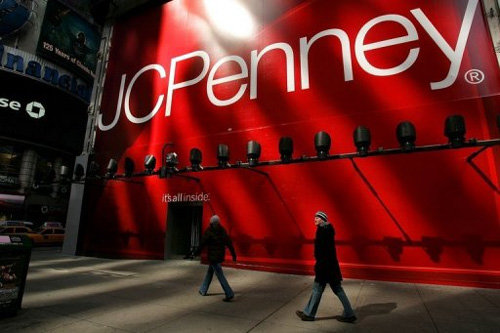 Photo AFP/Getty Images/File, Spencer Platt
Its management has opted for a radical change. "As we re-imagine basically all aspects of our business, we have seized the best talents in the industry internally and externally," said Michael Francis, JC Penney's president. "We aim to build a first-rate organization that would be effective at delivering a revolutionary shopping experience. As we build this organization we will continue to research profiles both internally and externally. "
For now, a first wave of new appointments should put JC Penney on the right track.
Liz Sweney, who has been at JC Penney since 2000 as executive vice president and general manager of women's textiles, accessories, shoes and jewelry, as well as children's wear and Sephora, has been entrusted with the mission of reinventing the brand's entire portfolio in her role as "Chief Merchant". To help accomplish this, she will have the help of Siiri Dougherty, who has been at the brand for 7 years and who brings 36 years of experience to her new role as head of women's textiles. The Sephora in the department store will be entrusted to Liz Asay, who will go from vice president of the division to senior vice president.
To ensure a relationship with the brands and their implementation in identifying partnership opportunities, the chain has hired Brian Robinson, formerly of Target, as vice president of marketing partnerships and design. Katheryn Burchett has been promoted to senior vice president of merchandising and marketing integration. In this role she will ensure a smooth relationship with the chain's new partners. Anne Cashill, new senior vice president of strategic brands, hails from Coach and aims to forge strong ties with brands such as Liz Claiborne, Martha Stewart and L'Amour Nanette Lepore. She will work with Bill Gentner, also senior vice president of strategic brands, but in charge of brands such as The Original Arizona Jean Company and Xersion. Steve Seabolt comes from Electronic Arts and will take over strategic agreements with brands in his role as senior vice president.
The redesign of the JC Penney model also requires a redefinition of its identity. This is the mission of Eric Hunter who becomes the new senior vice president in charge of marketing. A position he held with Kellwood and within which he was president of Scotch & Soda and Lamb & Flag. Greg Clark, vice president of development at JC Penney, meanwhile becomes senior vice president. Finally, to implement these changes in-store, the group recruited Mike Fisher. The former executive of Apple is the new senior vice president in charge of visual presentation. Clearly, it is he who will create the new experience at the JC Penney stores.
Copyright © 2023 FashionNetwork.com All rights reserved.