Jaeger sees strong demand for autumn/winter ranges
LONDON (Reuters) - Fashion brand Jaeger is seeing strong demand for its autumn/winter collection and plans to open another four or five shops over the coming year, even as its owners look to expand their newly-acquired Aquascutum brand.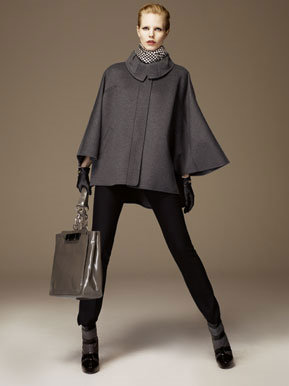 Photo: www.jaeger.co.uk
Jaeger Chief Executive Belinda Earl, who teamed up with chairman Harold Tillman last week to buy Aquascutum, told Reuters on Monday 14 September she planned to open new Jaeger stores in Britain, Russia and the Middle East over the next year.
The focus at Aquascutum would be growing in emerging markets, as well as starting to sell the brand on the Internet, she said in an interview at Jaeger's flagship store in London.
"We're seeing a very strong launch to our autumn/winter collections. Whether this is green shoots (of economic recovery), I think it may be a bit early to call."
"Sales are ahead of last year and in certain categories well up on last year .... I think the economy is part of that, but I think most probably it's weather patterns and the fact we've got a much stronger collection this season."
Earl, who declined to give precise sales figures, said top sellers included a 299-pound loop jacket modelled by Lara Stone, for which the brand had already placed two sets of repeat orders because of the strong demand.
Better-than-expected trading updates from retailers like home improvements group Kingfisher have raised hopes of a consumer recovery recently, though luxury goods firms like Richemont remain wary.
Earl said retailers were managing stocks tightly, which should reduce the chances of a repetition of the heavy discounting seen in the run-up to last Christmas, but that improvements to Jaeger's supply chain meant the brand could also respond quickly to any unexpected surges in demand.
A former head of department stores group Debenhams, Earl is credited with taking Jaeger from English county shows to international catwalks as well as broadening the brand into new product areas like homewares, sunglasses and fragrance.
(Reporting by Mark Potter)
© Thomson Reuters 2022 All rights reserved.