J. Crew shows drop in profits
In the last quarter of its 2011-2012 financial year which closed at the end of January, J. Crew saw its net profit rise to $15 million compared to $4 million the previous year. An encouraging result all the more so considering that its turnover showed a 13% increase, with sales up by 6% against the same period the previous year. Figures which put a positive spin on an annual report which shows a drop in profits.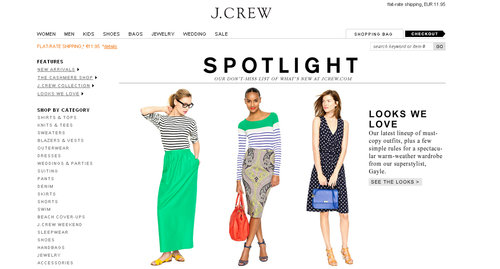 Screen-shot of JCrew.com
J. Crew, which is owned by the investment funds TPG Capital and Leonard Green & Partners, saw an increase in turnover of 8%, up to $1.8 billion (€1.4 billion), over the whole year and an increase of 3% against the same period of the previous year. The group comprises 267 stores, for the most part under the ready-to-wear J. Crew brand, which took $1.28 billion in sales.
But the group has seen its margins crumble mainly due to the rise in running costs. So much so that its operating profit dropped by 13% to $185 million. High interest rates have also brought down its net profit, which dropped by 58% to just over $51 million.
Copyright © 2023 FashionNetwork.com All rights reserved.