Ivana Trump sues Finnish designer over name
NEW YORK, Sept 16 (Reuters) - Ivana Trump, the first wife of real estate mogul Donald Trump, sued a Finnish fashion company on Thursday, accusing it of selling women's clothing that incorporates her name without permission.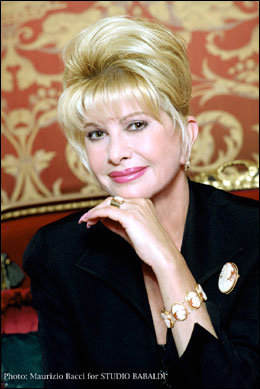 Ivana Trump models her jewelry collection for her website
In a lawsuit filed in Manhattan federal court, Ivana Trump said IVANAhelsinki Ky and designer Paola Ivana Suhonen are infringing her two U.S. trademarks for "Ivana."
The trademarks were registered in 2002 and relate to jewelry, eyeglasses and accessories. Trump, 61, said she has sold goods, including clothing, bearing her name since 1990.

IVANAhelsinki.com - A/W collection 2010
The lawsuit contends that the U.S. sale of IVANAhelsinki products is likely to confuse consumers or suggest a Trump endorsement, and damage her goodwill and reputation.
Started in 1998, IVANAhelsinki is launching its products in the United States at this week's New York Fashion Week.
"If someone is by the runway and sees the name IVANAhelsinki with IVANA in capital letters, it is reasonably inferable that Ivana Trump endorses this line or is affiliated with the company," said Gary Lyman, a partner at Reitler Kailas & Rosenblatt LLC who represents Trump.
The lawsuit seeks to halt the sale of alleged infringing products, actual and punitive damages, and other remedies.
Lyman said the amount of Ivana Trump-branded merchandise sold annually is substantial. He said his client remains amenable to a settlement. Talks had broken down on Tuesday.
The defendants' lawyer called Trump's claims "baseless," and said his clients intend to defend against them.
"My clients design and market a high-end fashion line," John Lynch, a partner at Pryor Cashman LLP, said in an email.
"There is no likelihood that anyone in the relevant consumer group will, for even a moment, suspect that there is any affiliation with Ivana Trump," he added.
The case is Trump v. IVANAhelsinki Ky et al, U.S. District Court, Southern District of New York, No. 10-07102.
(Reporting by Jonathan Stempel; Editing by Lisa Von Ahn, Bernard Orr)
© Thomson Reuters 2022 All rights reserved.