IT Holding unit signs Galliano fashion licence
MILAN, July 27 (Reuters) - A unit of Italian fashion group IT Holding (ITH.MI), currently in special administration, has signed a licence agreement with designer John Galliano to produce and distribute its Galliano menswear and womenswear lines.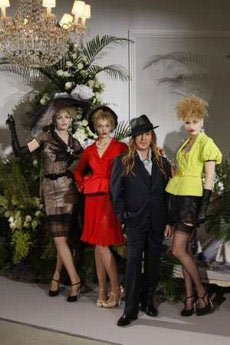 British designer John Galliano (2nd R) appears with models at the end of his Autumn/Winter 2009-2010 Haute Couture fashion show for French fashion house Dior in Paris - Photo: REUTERS/Benoit Tessier
IT Holding said in a statement on Monday 27 July the five-year agreement through its Ittierre unit starts with the Fall/Winter 2009/2010 collection up till the Fall/Winter 2014/2015 line.
The Galliano womenswear licence is a renewal of an existing licence, while the menswear licence is new. Ittierre will also distribute Galliano leather goods.
IT Holding, which owns Milan fashion brand Gianfranco Ferre, was placed in special administration earlier this year.
The company is in the hands of three special administrators, appointed by the industry ministry in February, who have six months to draw up a plan for the group.
Ittierre also has licences for the Just Cavalli, VJC Versace and C'N'C Costume National fashion lines.
A source close to the matter said talks were ongoing with Versace possibly for a different type of contract, which would be only for production and not distribution. The current Versace licence expires in 2012.
"They are working on a new idea, a production licence contract to produce different pieces for the different (fashion) lines of the Versace group," the source said.
The special administrators will not comment during their review of the business.
Their plan -- originally due in mid-August -- should be ready for the end of October as they are seeking an extension of 45 to 60 days, the source said.
IT Holding, which has two new people in management -- Director General Massimo Suppancig and adviser Antornio Arcaro -- is looking for a way out of special administration and could sell its brands.
"A sale is looking likely, considering also the tough economic climate," the source said. "The whole group could be sold or maybe individual brands like Ferre, Malo and Ittierre."
Any such process would likely start in September, when advisers Mediobanca (MDBI.MI) and Sinergetica, will evaluate "numerous" expressions of interest, the source said.
Italian business daily Il Sole 24 Ore has named private equity fund Clessidra as well as Middle Eastern or Indian investors as potential interested parties.
(Reporting by Cristina Carlevaro; writing by Marie-Louise Gumuchian; editing by Karen Foster)
© Thomson Reuters 2022 All rights reserved.