Invista: "Innovation is a must"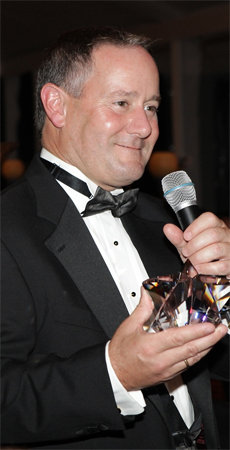 Dave Trerotola
On the occasion of its Fiber MOVES International Forum in Barcelona at the end of September, Invista brought together members of the legwear industry. Dave Trerotola, Invista's CEO, answered FashionMag.com's question about the company's ambitions and strategy.
FashionMag.com
- You just showed Lycra Xceptionnelle, a new line of tights for "plus size" women, do you plan to offer a wider selection dedicated to this market in the future?
Dave Trerotola
- Generally, we are dealing with a growing market that is not covered by manufacturers. So it is pretty obvious that there is a demand for a line of comfortable products with better fit. Our goal, then, is to develop the technologies that would allow us to penetrate this new market. And to meet and surpass its expectations, and not just in legwear, this would not only increase our sales but also expand our consumer base.
FM
- For five years, Invista has invested heavily in denim. What are your ambitions now in this area?
DT
- Our goal is pretty simple: see that the skinny jeans market continue to expand. We have a very strong position in the global denim market with an offering that ranges from affordable to expensive. But there are countries where the development of the product is done differently, with less elaborate cuts but with stronger materials. At the end of the day, each collaboration with a brand is new publicity for the effectiveness of our products. And in the future, I personally would like all men to wear slim jeans (laughs).
FM
- The market men's market is an important source of growth for you?
DT
- Yes. I wore my first stretch pair of jeans a few days ago, and now I wonder why men have not been wearing them for years already. But it goes beyond that. Take Cordura, for example, which provides comfortable and durable goods: it reflects the priorities of today's male customers. In the sportswear segment there is also Coolmax, which is an emerging brand.Yes, our brands are made to be more masculine. And menswear could be be a growth opportunity, like we had in shapewear.
FM
- What prompted the decision to use your sculpting fabric, Lycra Beauty, in hosiery, which had before been used only for shapewear and swimwear?
DT
- We remain confident that enhancing the body is a point of view that will allow us to reach a wide audience. It's a widespread trend, as a matter of fact. All the brands want part in it and try to offer some kind of sculpting garment. This is consistent with Lycra Style, clearly focused ready-to-wear, easily accessible for the brands and strategically oriented towards a young clientele.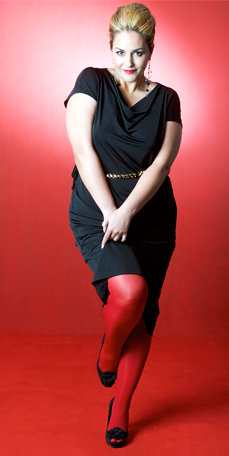 Lycra Xceptionnelle - Invista
FM
- What is the place of the young consumer in your strategy?
DT
- As for the very young (laughs), we have a dominant position in the diaper market, although we do not disclose it. Apart from apparel for girls, the childrens market is not a big area of growth for us. On the other hand, we organize events and contests to make ourselves known to children and young people, as was the case recently with Billabong. It's a question of demographics: we have to make ourselves known to our consumers and future consumers.
FM
- Without going too far, do you, like many professionals, expect a drop in consumer demand due to economic cocerns?
DT
- With the acceleration of information, economic crises become more real to consumers. We urgently need to restore confidence in the economy, or the effects will soon be felt. But I like to think that our company is strong enough to face these crises. We just have to make sure that we are offering what people are looking for. In the end, more than a strategy, innovation is a must. But we have to stay cautious: in the first half of the year, demand for spandex fell for the first time in 10 years, faced with rising prices.
FM
- What countries represent you largest markets in the future?
DT
- We are especially interested in China, in India, Russia, and Brazil. We are already well established in Brazil, where we also have a lot of factories. We are less invested in Russia, because our European clients are already selling in this market. On the other hand we are very committed to India, especially in communications, to acquaint it with our products. But we are now focusing on China, where we already have a lot of partners. That is clearly the market where we are focusing investment, advertising and development efforts.
Copyright © 2021 FashionNetwork.com All rights reserved.