Inditex removes controversial t-shirt line from its Stradivarius stores
Inidtex has made a decision: following the controversy taking place in Spain and in the "blog world", the group has decided to remove its t-shirt line from the shelves of its Stradivarius stores. Reason: the illustrations had an uncanny resemblance to photos of fashion bloggers. Two of them were identified, French girl Louise Ebel, aka Miss Pandora, and Michelle Krüsi from Switzerland. The latter made an appeal to the "fashionista" community to help her find other potential bloggers on the Stradivarius' t-shirts, although no charges have been pressed yet.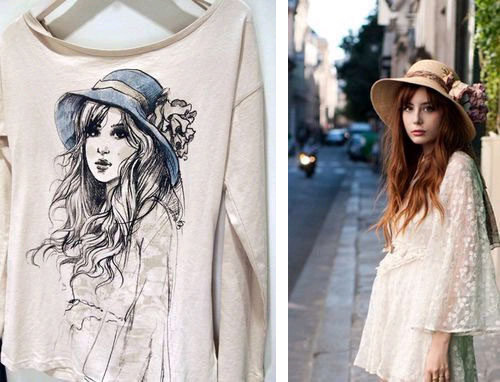 A Stradivarius t-shirt, currently no longer on sale (left); A photo taken by Pauline Darley, published on Miss Pandora's blog (right)
After the sales withdrawal, Inditex claimed that it did not mean to act in bad faith and that it trusted the work of a subcontractor who was in charge of making sure that the company had a license to use the photos of the bloggers. Inditex does rule out the possibility to do a follow-up on the case, which it considers to be an "isolated incident".
But the bloggers are not satisfied with the Spanish group's response, claiming that it had already committed the same offence in the past. Indeed, this is not the first time Inditex is accused of such a thing: in 2010, Zara and Berschka were subject to identical accusations. The first incident was with Betty Autier, a French blogger, who came across a surprising t-shirt in a Zara store last May.
Then it was the turn of another French girl, Louise Ebel. "Inditex has recently contacted me to apologise, she explained. Since this wasn't the first time, I told them to speak to my lawyer who is currently dealing with the situation. It's an abusive usage of photos that does not respect the works of photographers whom I work with for my blog, even though the latter is fully protected by copyright laws". Personally, she has listed 5 t-shirts which pose a problem: 3 are distributed by Inditex's brands, but also another two by Peper Jeans.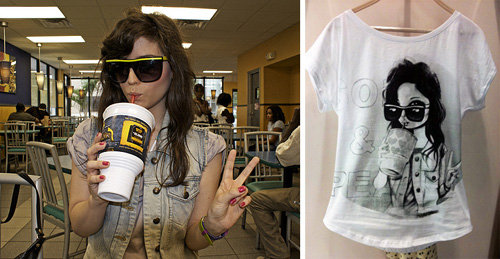 A snapshot of Betty Autier published on www.leblogdebetty.com (left); A t-shirt sold at Zara in May 2010 (right)
Copyright © 2023 FashionNetwork.com All rights reserved.