Ichiro Suzuki, winner of the ITS young designer competition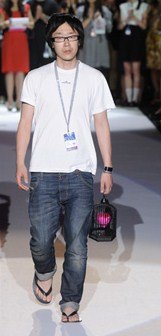 Ichiro Suzuki, winner of ITS 2012
The 11th edition of ITS (International Talent Support), a competition for young designers in fashion, accessories and jewelry, took place in Trieste, Italy July 13 and 14. Each year, the event is a testament to the incredible creativity pulsing through the four corners of the globe. Among the 31 finalists (11 for fashion, 10 for accessories and 10 for jewelry), Asia strongly dominated with many candidates hailing from Japan, China and Korea, followed by Eastern Europe. The British and Germans also made a strong showing.
The competition for the fashion category was won by Ichior Susuki, who wowed the jury and the audience with his technical skill and inventiveness. Starting with the traditional suit for men and inspired by Op art, the Japanese designer reinvents menswear with incredible ingenuity, playing with prints, optical illusions and patchwork. Such as with the stripes of the banker suit that derail at the shoulders and gain volume to create a three dimensional effect. Or the classic Scottish plaid, cut and stitched into a patchwork in multiple geometric shapes, morphing into a kaleidoscopic explosion.
The 33-year-old Japanese London transplant has just completed his studies at the Royal College of Art and is embarking on a career in fashion somewhat later in life. "I worked in a karaoke bar and was a complete fashion victim. When I turned 25, I wanted to give my life some direction. Always fascinated by fashion, I was not interested in design but how clothes were made," he says. Attracted to formal menswear, Ichiro Suzuki ended up in London, where he works as a tailor with the prestigious and historic English house Henry Poole on Savile Row, all the while dreaming of "inventing a new territory for menswear."
Meanwhile, the work of the winner of the Diesel Award, Lithuanian Marius Janusauskas (age 32), shows the same inventiveness but in a completely opposite style – a collection based on the theme of "sleeping beauties." A graduate of the Royal Academy of Fine Arts in Antwerp, the designer impressively worked with fabric to create ethereal garments imbued with a feeling of delicate wear and tear. He left yards of silk and cotton lying on the ground for weeks so that they would naturally fade and used a candle flame to lightly color the edges of the material. To express the idea of these "sleeping beauties" suspended between life and death, the young designer also borrowed from the medical world, making a bustier out of transparent plastic tubes laced with blood-red wool yarn.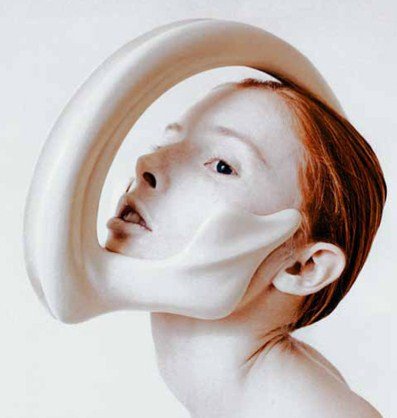 A design by Ana Rajcevic, winner of ITS 2012's accessories category
The accessories prize went to the Serbian Ana Rajčević (age 29) for her daring and disturbing collection of headwear sculpture, designed as a potential part-mutation, part-evolution between human and animal. The jewelry category was won by the Chinese Xiao Yang Zi (age 25), who was inspired by Asian cabinetry from ancient Chinese architecture. He created a collection of postmodern necklaces in geometrically-shaped, towering metal structures. Both winners are graduates of the London College of Fashion.
The ITS is a not-to-be-missed rendezvous of creativity from around the world and a great springboard for new talent. The event was founded eleven years ago by Barbara Franchin and is solely financed through the support of various sponsors such as Diesel, YKK, Swarovski and ModAmont.
Winners of ITS 2012
Fashion
"Fashion collection of the year" Award (€ 15,000): Ichiro Suzuki (Japan)
Diesel Award (€ 25,000 + six-month internship): Marius Janusauskas (Lithuania)
Special Award (€ 5,000): Luke Brookes (UK)
Accessories
ITS Award (8,000 €): Ana Rajčević (Serbia)
YKK Award: (€ 10,000) John Benjamin Hall (UK)
Jewelry
Swarovski Elements Award (10,000 € + six-month internship): Xiao Yang Zi (China)
Copyright © 2023 FashionNetwork.com All rights reserved.