Hugo Boss to steer clear of fashion for deals
March 20 - German fashion house Hugo Boss plans to steer clear of acquisitions for the coming years, despite consolidation moves in the industry and will not seek further jewellery licensing deals.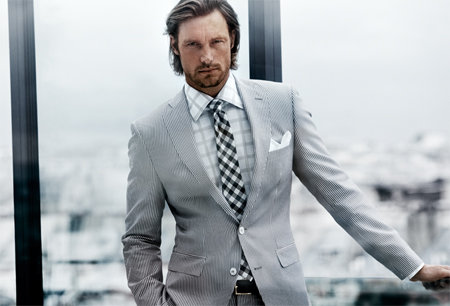 Hugo Boss 'Boss Selection' collection
"I really do not believe that an acquisition would result in stronger growth for us in the next years," Chief Executive Claus-Dietrich Lahrs told Reuters in an interview.
French luxury group LVMH is buying Italian peer Bulgari for 3.7 billion euros ($5.2 billion) and analysts believe the deal could lead rival groups to embark on a fresh consolidation drive.
Of the remaining listed luxury firms Burberry, Tiffany and Tod's, analysts and bankers say the U.S. jeweller, which has a market capitalisation of $8 billion, is most likely to be snapped up first, although not immediately.
"There is nothing on the market at the time that would be a fit...to make us pounce on it," Lahrs said.
Lahrs, who has worked for Louis Vuitton and Christian Dior, also said Hugo Boss currently had no plans to enter the jewellery business again.
"Our cooperation with Amazar, a subsidiary of the Swarovski Group, was not as successful as we had envisioned it would be," Lahrs said.
The private equity owned company, based in Metzingen near Stuttgart, in 2007 entered into a jewellery license agreement with Amazar Holding AG for a six-year term.
The exclusive license covers the production and worldwide distribution of fashion jewellery collections for men and women under the Boss brand name.
Asked how much of an impact the catastrophe in Japan has had on Hugo Boss, Lahrs said the company, which has about 150 employees and almost 50 stores there, had cut opening hours."
"We currently have reduced our opening hours, many employees are at home. Many people are scared, Tokyo is almost empty after 6 pm," Lahrs said.
He added that China had long surpassed the Japanese market in terms of revenue, but that Japan remained one of the most important markets for luxury goods in Asia.
Hugo Boss is majority-owned by private equity firm Permira.

By Hendrik Sackmann
(Writing by Nicola Leske; Editing by Alexander Smith)
© Thomson Reuters 2021 All rights reserved.