Hugo Boss counts on own stores in crisis
* CEO tells Reuters '09 will be about defending the achieved
* Says financing secure, no need to renegotiate loan
(Adds details and background)
FRANKFURT, Feb 12 (Reuters) - German fashion house Hugo Boss (BOSG_p.DE) will battle the economic slowdown by boosting the number of its own stores and using more flexible distribution to foster the brand's international presence.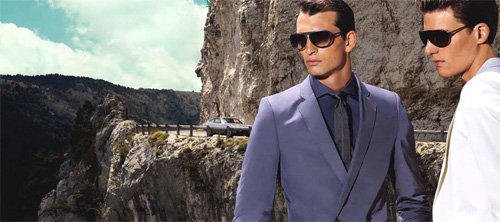 Boss Black campaign
"The year 2009 will be about defending what we have achieved and about gaining market share from competitors," Chief Executive Claus-Dietrich Lahrs told Reuters in an interview.
A combination of its own retail operations and the ability to react quickly to changing trends in demand has become "more then ever" an important advantage, Lahrs said.
The Hugo Boss statement comes after Hermes (HRMS.PA), the world's second-largest luxury group in terms of market value after LVMH (LVMH.PA), said last week it aimed to keep 2009 sales relatively constant against 2008. LVMH has not given an outlook.
Many analysts have said they expect the global luxury market to fall about 10 percent this year as the economic downturn curbs spending by the ultra-rich.
Known for its sharply cut black suits, Mao necklines and luxury accessories, Hugo Boss makes about 40 percent of its business in Hugo Boss stores and plans to boost this share "significantly", Lahrs said this week.
The former Christian Dior (DIOR.PA) and LVMH manager joined Hugo Boss in August. He succeeded Bruno Saelzer, who left after the takeover by private equity group Permira [PERM.UL], which holds about 72 percent of the group's equity.
"I know from my experience at Louis Vuitton and Dior: It's a challenging task to be globally successful. We still have a long way to go in terms of international positioning," he said.
SECURE FINANCING
Hugo Boss generates about 70 percent of its sales in Europe and aims to boost overseas sales to 50 percent within the next three to four years, with a focus on North America and Asia.
China, Hong Kong, Singapore, Europe -- particularly eastern Europe -- and the Middle East are its fastest-growing markets.
To be quicker and more flexible in reacting to changes in demand at short notice, Hugo Boss will open a new warehouse in May or June next to its headquarters in Metzingen, southwest Germany, designed to supply all of its markets.
It invested tens of millions of euros for the new hub -- one of the largest in Europe for suits, jackets, trousers and the like -- and plans to invest a similar amount soon for another warehouse for goods like shirts and sweaters.
Financing for such plans was secured. Hugo Boss took out a five-year 750 million euro ($969.6 million) loan last May and Lahrs said there was no need to renegotiate the loan.
The fashion house, due to report full-year results on March 26, will meet its 2008 forecast, Lahrs said, adding that the fourth quarter and the Christmas shopping season were better than expected after difficult times in September and October.
Hugo Boss lowered its outlook in October after third-quarter sales stagnated. It expects 2008 earnings before interest and tax (EBIT) to come in between 210 and 220 million euros, below the 2007 level of 220 million, and sales to grow 6 to 7 percent.
Hugo Boss trades at a discount to other luxury goods makers. Analysts point to increased uncertainty following the takeover by Permira, high debt, management changes and the deteriorating market environment for accessible luxury goods.
Hugo Boss shares have fallen about 68 percent in the past 12 months. They have underperformed the DJ Stoxx Personal and Household Goods index .SXQP, which includes Hugo Boss rivals LVMH and Hermes, by more than 50 percent in the same period.
(Reporting by Eva Kuehnen)
(([email protected]; +49 69 7565 1244; Reuters Messaging: [email protected]))
($1=.7735 Euro) Keywords: HUGOBOSS/ =2
(C) Reuters 2009. All rights reserved. Republication or redistribution ofReuters content, including by caching, framing or similar means, is expresslyprohibited without the prior written consent of Reuters. Reuters and the Reuterssphere logo are registered trademarks and trademarks of the Reuters group ofcompanies around the world.nLB106151
© Thomson Reuters 2023 All rights reserved.