Hudson's Bay reports loss, sees little Target overlap
Hudson's Bay Co's chief executive said on Tuesday that he does not see Canadian customers taking their business away from his department stores when Target Corp makes its debut north of the border in the spring.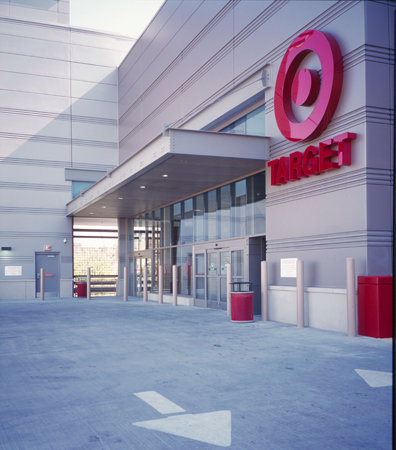 Canadian retailers are bracing themselves for the entry of US retail giant Target
Shares of HBC, which operates Hudson's Bay in Canada and Lord & Taylor in the United States, have languished since the company's November IPO. That partly reflects concern that Target - which bought its first Canadian leases from HBC - will derail HBC's turnaround once its stores open.
"We made the deal with Target, so we did a tremendous amount of analysis before we made that deal," CEO Richard Baker told Reuters on Tuesday after the company posted a quarterly net loss, and warned that the impact of Superstorm Sandy would weigh on sales in the current period.
"While they are a similar customer, there is very, very little product overlap."
Customers will buy different products at Hudson's Bay and Target, Baker said. When a new Target location opens south of the border, nearby Lord & Taylor stores have not been affected at all, he said.
HBC fell 0.4 percent to C$16.75 on Tuesday afternoon on the Toronto Stock Exchange. The stock has been pinned below its C$17 offer price since its first day of trading.

FIRST RESULTS SINCE IPO
Hudson's Bay, North America's oldest continually operating company, reported its first quarterly results on Tuesday since the initial public offering.
In its third quarter ended Oct. 27, sales rose, but gross profit margin fell to 39.0 percent from 41.3 percent a year earlier, hurt in part by markdowns on seasonal goods. HBC turned a small profit after stripping out restructuring charges and other one-time items.
Founded in 1670, the company began as a fur trading business and was granted control of a vast part of what is now Canada by King Charles II. It went private in 2006.
NRDC Equity Partners, controlled by Baker and his family, bought out HBC's other investors in 2008 and integrated the company with Lord & Taylor.
Ahead of its long-anticipated IPO, HBC focused on its two marquee banners, winding down discount chains Fields and Zellers, and selling many of its Zellers leases to Target in a C$1.83 billion deal.
Baker said his team has made progress in improving the performances of both Hudson's Bay and Lord & Taylor, but he allowed that the turnaround, which kicked off with their 2008 investment, was still a work in progress.
"We have what we believe is a long runway of opportunity," he said. "We didn't wait five years to go public until everything was perfectly fixed and everything was one hundred percent done."
HEADWINDS FROM SANDY
In its earnings release, HBC warned that Superstorm Sandy would weigh on sales. The storm battered the northeastern United States in late October, just after the end of the company's fiscal third quarter, forcing HBC to close or cut hours at 80 percent of its Lord & Taylor stores.
In November, consolidated sales at established stores were little changed, with a 9.0 percent rise at Hudson's Bay offsetting a 12.4 percent decline at Lord & Taylor.
The effects of the storm may reduce sales in the current quarter by about $20 million and lead to "moderately higher" inventory at Lord & Taylor, the company said. But so far, it looks like the issue was temporary.
"We saw a really strong Thanksgiving, Black Friday weekend, so we're encouraged that things are getting back to normal in most areas," said Chief Financial Officer Michael Culhane in an interview.
CONSIDERING A REIT
In a conference call with analysts and investors, Baker said HBC may one day spin off its property assets into a real estate investment trust, following a path taken recently by Loblaw Cos Ltd, Canada's No.1 grocery store operator.
"We've always believed that sometime in the future we could have the opportunity to create a REIT, similar to what Loblaw's is proposing," said Baker, who is best known as a real estate investor. "We are not presently working on this plan, but it is something that we often talk about."
The company owns or ground leases more than 11 million square feet of retail space.
SAME-STORE SALES RISE
In the third quarter, sales at stores open at least 13 months rose 4.5 percent at Hudson's Bay. The key metric increased 5.2 percent at Lord & Taylor when measured in U.S. dollars.
Consolidated same-store sales were up 3.5 percent, weighed down by a decline at Home Outfitters, HBC's housewares chain.
At the end of the third quarter, it had 90 Hudson's Bay stores, 48 mainline Lord & Taylor locations and 69 Home Outfitters outlets. It also operates two Lord & Taylor Home and three Lord & Taylor Outlet stores.
The company reported a net loss of C$2.0 million, or 2 Canadian cents a share, compared with year-earlier earnings of C$1.24 billion, or 12 Canadian cents a share.
Excluding restructuring costs and other items unrelated to day-to-day operations, earnings were C$800,000, compared with a loss of C$5.0 million a year earlier.
Total retail sales rose 3.8 percent to C$930.4 million.
© Thomson Reuters 2023 All rights reserved.