Hudson Jeans up for sale, may fetch $150 million
Private equity-owned Hudson Jeans, a high-end denim line endorsed by rock star Mick Jagger's daughter, is exploring options, including a sale, according to sources familiar with the matter.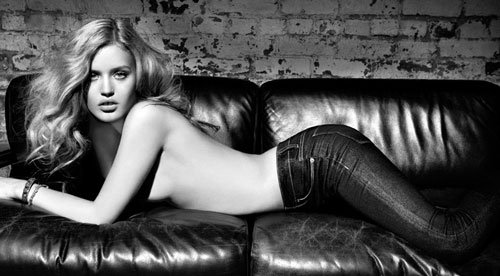 Georgia May Jagger, the face of Hudson Jeans / Photo: Hudson Jeans
The Commerce, California-based brand, owned by private equity firms Webster Capital and Fireman Capital, could fetch around $150 million, one of the sources said.
It has hired Lazard Ltd to assist with the transaction, the sources said.
Fireman Capital said: "We are very confident in the company's prospects for continuing strong growth, and so we are exploring potentially bringing in new synergistic investors to help fuel its further expansion."
Hudson Jeans and Lazard could not be reached for comment. Webster Capital declined comment.
Hudson Jeans, which feature a triangle flap pocket and a Union Jack logo, is one of a handful of auctions of private equity-owned companies in the high-end denim segment. Women's apparel maker J Brand is also considering an initial public offering or sale, sources have said.
Affluent shoppers have continued to spend despite a weak economy, helping such high-end apparel makers grow. As some of these investments mature, their private equity owners are looking to cash out.
Hudson Jeans, which can cost more than $150, are sold at high-end department stores such as Saks and Nordstrom . Both chains reported strong June sales, topping expectations.
Hudson, which expects to generate $85 million in revenue and $15 million in earnings before interest, tax, depreciation and amortization this year, could sell for 10 times EBITDA, or $150 million, one of the sources said.
A similar valuation is expected for J Brand, known for its luxury denim jeans that can cost upward of $170.
Hudson Jeans has a large following among A-list celebrities including such actors as Jessica Alba and Jude Law, and soccer star David Beckham. Hudson's longtime face, Georgia May Jagger, has also designed a collection of 1970s inspired jeans for the brand.
Fireman Capital, whose founder is Reebok founder Paul Fireman, invested $33 million in Hudson Jeans in 2009 alongside Webster Capital.
© Thomson Reuters 2023 All rights reserved.