Hibbett Sports Q3 tops Wall Street view
Nov 19 - Hibbett Sports Inc forecast a strong fourth quarter as robust demand for sporting goods and apparel spurs sales ahead of the holiday season, lifting its shares to their highest level in over three years.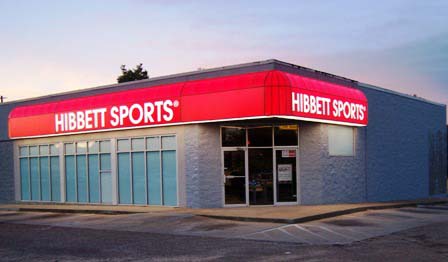 New Hibbett Sports store in Monroeville, Alabama
Sporting goods and athletic footwear retailers across the board have witnessed improving demand for apparel, footwear and gear under well-known brands such as Nike and Adidas.
Hibbett's same-store sales - a key metric of retail strength - are currently tracking even better than they did in the third-quarter and ahead of the retailer's own forecast for a mid-single digit rise in the holiday quarter, Stephens Inc's Rick Nelson said.
Birmingham, Alabama-based Hibbett's third-quarter results beat market estimates as same-store sales jumped 12.5 percent.
Hibbett operates over 774 primarily small stores in strip centers and malls in 25 states mainly in Southern, Mid-Atlantic and lower Midwest regions.
Larger rival Dick's Sporting Goods Inc, which reported a profit above estimates and forecast a strong holiday quarter, aims to more than double its store base to tap strong demand for sports gear and apparel, putting it on course to buy a major rival.
Hibbett, which plans to open 40 to 42 stores for the year, projected fourth-quarter profit of 47 to 50 cents a share.
Hibbett's shares, which have gained about 17 percent since it reported disappointing second-quarter results on August 20, rose nearly 7 percent to $30.00 in heavy Friday morning trade on Nasdaq, exceeding the stock's 50-day average.
© Thomson Reuters 2022 All rights reserved.