Hermes needs to style media defense to unsaddle LVMH
(Reuters) - Winning the media war against luxury giant LVMH (LVMH.PA) which began in earnest this week is likely Hermes' (HRMS.PA) only realistic chance of shaking off its unwelcome new shareholder.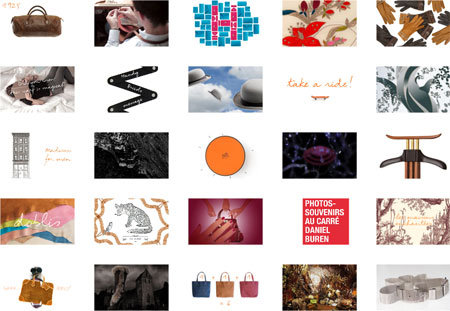 Hermes.com
LVMH boss Bernard Arnault, who made his fortune exploiting rivalries and convincing reticent families to sell shares in their companies, has shown he is ready to use his trademark tactics to add France's last major independent luxury group to his empire.
The French stock market watchdog AMF said on Friday it planned to formally investigate conditions under which the No.1 luxury group built up its Hermes stake, having used derivatives known as equity swaps to avoid declaring threshold crossings.
On October 23, LVMH announced that it had acquired 14.2 percent of Hermes and could lift its holding to 17.1 percent through derivatives, which it did three days later on October 26. Hermes management was informed of the move only an hour before LVMH made the announcement.
"Any instrument that allows the purchase of shares of another company must be declared," AMF President Jean-Pierre Jouyet told RMC Info radio on Friday. LVMH replied it expected the investigation to show it respected AMF rules.
But even if LVMH is condemned and fined, the worst that could happen is that it would lose its voting rights for two years -- which is of little importance since Hermes is a limited partnership whose control firmly rests with family shareholders.
And Arnault is going to play the waiting game to win Hermes.
"I think the only thing that Hermes can do right now is try to win the communications battle with LVMH," said Etienne Boursican, M&A adviser at law firm SJ Berwin.
"It is its best defense."
Hermes needs to make sure Arnault does not exploit any weak spot he finds at Hermes which would give credibility to his assault on the company, Boursican added.
In his battle to win control over Gucci, which he eventually lost, Arnault showed he was ready to use all communications tactics possible to reach his goal. For example, he denied he was seeking control of Gucci just before launching a bid. This time, Arnault said he was not planning to make a bid for Hermes.
In a rare interview published in Le Figaro newspaper on Wednesday, the heads of Hermes abandoned their traditional discretion to portray Arnault as a raider whose corporate culture was worlds apart from that of Hermes and called on him to withdraw.
But Arnault replied on Thursday through the same paper: "I do not see how the head of a listed company can be qualified to ask a shareholder to sell his shares. On the contrary he is supposed to defend the interests of all shareholders."
LVMH owns Hennessy cognac, Moet & Chandon, the world's biggest champagne maker, as well as fashion houses Dior and Celine and leather goods maker Louis Vuitton, which alone, accounts for more than 50 percent of group operating profit.
As opposed to LVMH which is an amalgamation of different brands, Hermes branched out into different luxury segments, from tableware and ready-to-wear to watches and helicopters.
Hermes is regarded as one of the world's most prestigious brands which managed to preserve its original spirit as a saddle maker dating back to 1837 while staying in tune with the times by hiring top fashion designers such as Jean-Paul Gaultier.
LIMITED OPTIONS
Using the communications battle to draw greater scrutiny on Arnault's motives and means appears be the way forward for Hermes if it wants to stall a potentially disruptive shareholder.
For instance, it could make much of the fact that LVMH built up a stake without informing it. According to Hermes's statutes, any shareholder that buys more than 0.5 percent of its shares must declare it to the company.
Hermes's partnership structure means that even with 17 percent, LVMH cannot get board representation, influence strategy, block the approval of accounts or dividend payments.
But LVMH can make life difficult for Hermes by asking the courts to investigate past transactions and submit resolutions at annual shareholders' meeting, legal advisers said.
The descendants of founder Thierry Hermes, split between the families Puech, Dumas and Guerrand, own 73 percent of Hermes.
To cement their unity, family shareholders could hand over all of their shares to a holding, legal experts said, but the move could backfire as some might baulk at the idea of losing the ability of sell their shares easily in the market.
"Also, there are often issues related to taxes and inheritance which differ for everybody which means that it might be difficult to find a structure suitable to all," a Paris-based legal adviser said, declining to be named.
Already last week, some family members could not resist the temptation to sell shares after the price hit record highs.
According to filings to the AMF, Laurent Mommeja, brother of Renaud Mommeja, who sits on Hermes's supervisory board, sold shares for 1.8 million euros at 189 euros a share on October 25.
Hermes stock, which floated at 5 euros in 1993, hit a high of 207.7 euros last week after LVMH announced it owned a stake.
With under 10 percent of capital still in free float after LVMH acquired two-thirds of Hermes's floating stock, analysts in Paris and London said they might even reduce coverage of the stock.
But others such as Luca Solca at Bernstein, who does not formally cover the stock, said he was planning to take a closer look at Hermes "in anticipation of LVMH growing deeper into it at some time in the future."
Even if Hermes shares are illiquid, Hermes could not delist without LVMH's backing and at current prices, it would cost it 4.4 billion euros to buy the 27 percent the family does not already own.
This would imply it would have to take on debt which would reduce its valuation -- something family shareholders would not welcome, with or without LVMH.
(Editing by Sitaraman Shankar)
© Thomson Reuters 2023 All rights reserved.