Hermès considers sales on mobile phones
At the same time as the deployment of online shopping, Hermès is considering necessary technology adaptations to sell on internet capable "smart phones". "The technology is developing very quickly. We must take advantage. Demonstrating items on mobile telephones needs, for example, the enlargement of the format of the photos", explained Charles Henri Leroy, director of client relations who oversees marketing, services offered in stores and personal services.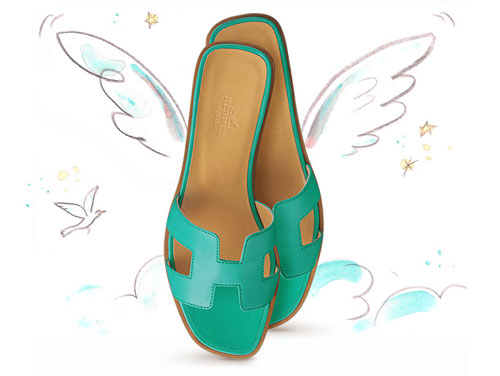 Hermès Sandals available on Hermes.com
The epitome of French luxury and defendant of artisanal know-how, Hermès has nonetheless been pioneering, selling ties, handkerchiefs and perfumes on the Internet since 2002 in the USA. It was not until March 2008 that the fashion house opened its institution's own site though. A "reverse path" compared to other luxury brands, observed Charles Henri Leroy, "adhering to the strategy of Jean-Louis Dumas and his son Pierre Alexis, who, from the start, saw the Net as a means of supplying a supplementary service to clients and a tool to recruit new ones who, without which, would not have access to the products, the brand not being present in their country".
As for the institutional site, Hermès has waited until technology permitted, through the quality of photos and videos, to show all the facets of the label and its history. After America, sales sites have been opened in the principal countries of Europe, Switzerland and since last year in Australia and Japan. The price is based on current market prices and available products that are sold has been gradually enlarged, with differences by country: the American site is the richest in leather products and offers watches, whereas the French sells jewellery.
Coming soon, ready-to-wear men's wear and, why not, ladies' fashion. "We have no taboos. It's like in our real boutiques, each director has his own selection", though always with "multi-channel continuity" between what is available on the web and in stores.
Copyright © 2023 Les Echos. All rights reserved.