Helly Hansen speeds up expansion, sales rise
By Mark Potter
LONDON (Reuters) - Norwegian outdoor clothing brand Helly Hansen is speeding up plans to open new stores amid weak property markets and sales that have continued to rise despite the economic downturn, its chief executive said on Tuesday 8 September.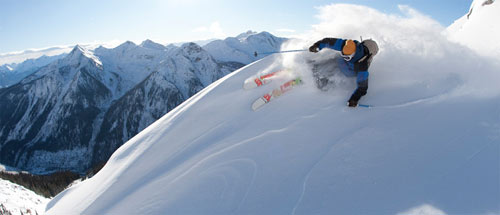 Winter 2009/2010 from Helly Hansen - Photo: www.hellyhansen.com
Peter Sjoldander also told Reuters in an interview that the 132-year-old brand, which is owned by Swedish private equity firm Altor, was being closely tracked by potential trade buyers.
However, now was not the time to sell the business because valuations are too low and it is focussed on a delivering a recovery programme after years of underperformance, he said.
"We've sped up," Sjolander said of plans to open 10-15 stores in western Europe and the United States, which had originally been envisaged as a four to five-year project but might now be completed in two to three years.
Helly Hansen was in a better position to benefit from weak real estate markets than listed rivals, which were under pressure to meet short-term profit targets, Sjolander said.
"What they ought to be doing is what we're doing. They ought to exploit the fact you can sign a lease for basically half the amount you would have paid a year ago and you can get locations even in Scandinavia now on terms you could only have dreamed about (then)."
Helly Hansen is opening new stores in Oslo and Gothenburg as well as Manchester, England, over the coming months.
Sjolander said outdoor clothing had fared better than many industry sectors in the recession, though there were big variations between markets, with Russia "a catastrophe" and the United States weak, but Scandinavia, Germany and the UK robust.
"People look at all those nasty headlines and they think, 'OK, I won't take that big vacation in Thailand'. But they still have a family, they still want to have fun. So they stay at home and do more outdoor activities," he said.
Sjolander sees Helly Hansen's revenue rising about 10 percent this year, matching the growth rate of 2008 when revenue was 1.6 billion Norwegian crowns (162 million pounds).
Earnings before interest, tax, depreciation and amortisation (EBITDA), which were a record 152 million crowns last year, would be flat, but only due to the brand's investment drive.
FLAGSHIP STORES
Helly Hansen traces its roots back to a Norwegian sea captain of the same name who produced his first oilskin weather protective "waterproof" jacket in 1877.
It was bought by Altor in 2006, the same year that Sjolander launched a recovery plan based on integrating production with sales, innovation and cutting underperforming staff and stores.
The brand now has 132 shops around the world, mostly run by franchisees and distribution partners. It plans to add a further 150 over the next five years, most of them through a licensing deal agreed earlier this year with Hong Kong based Symphony Holdings.
While having high hopes for this deal, Sjolander said the brand was aiming to achieve a greater proportion of revenues from its own "flagship" stores over the coming years.
These stores would allow Helly Hansen to showcase its full range of products, which span sportswear to survival suits, whereas retail partners tended to stock just some of its lines.
"If I skip doing the retail, then how do I build a brand when I'm a victim of all these retailers that are under pressure right now?" Sjolander explained.
He expects retail sales to account for about 25 percent of group revenues by 2012, up from 13 percent in 2008.
Sjolander said it would make sense for Altor to eventually sell the business to an industry player that would have the resources to continue growing it.
"There are some people that look at us almost on a monthly basis," he said.
"But this would be the wrong time to sell," he added.
(Editing by Greg Mahlich)
© Thomson Reuters 2022 All rights reserved.