Harvey Nichols says 'Hi Panda'
Head of Communications for Louis Vuitton and son of illustrious entrepreneur Bernard Arnault, founder of LVMH, Antoine Arnault brings the Chinese brand phenomenon to the London department store, following its success in Colette, Paris.



Jiji's silk prints
Shanghai-born in 2000 by artist Ji-Ji the political, social symbols became a craze in Asia for the young teeny boppers. Harvey Nichols has decided to stock both the clothing and the art, by way of an interactive exhibition on its new fashion and lifestyle Fourth Floor. Ji-Ji has also designed an exclusive tee collection for Harvey Nichols. The products will be available from the end of October.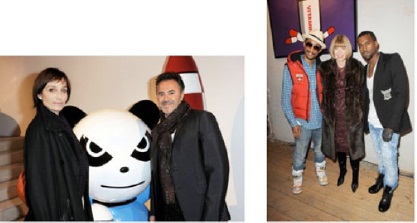 Hi Panda juggernaut attracted support from the likes of Kristin Scott Thomas, Pharell Williams, Anna Wintour and Kanye West.
"I discovered Jiji's Work at the Victoria & Albert Museum in London in 2008, during the 'China Now' exhibition. Immediately I loved what he did…Then in Shanghai I discovered the whole Panda universe."
By Rosie Hart
Copyright © 2023 FashionNetwork.com All rights reserved.