Harry Winston, others circle BHP's diamonds
LONDON - Diamond miner and luxury jeweller Harry Winston is among several potential suitors circling BHP Billiton's majority stake in the EKATI diamond mine in Canada, a person familiar with the matter said on Wednesday.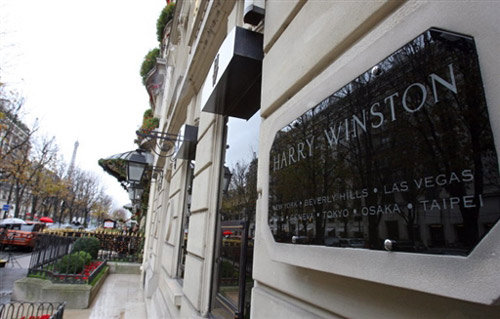 Harry Winston store on Avenue Montaigne in Paris - Photo : Patrick Kovarik/AFP
BHP, the world's largest miner, focuses on large assets and said last year it was considering pulling out of diamonds. It sold its majority stake in the Chidliak project in northern Canada to partner Peregrine in December.
Harry Winston is one of several jewellery makers that have gone into mining to secure access to rough diamonds. It is already a partner of Rio Tinto at Diavik in Canada's Northwest Territories, Canada's largest diamond mine.
Harry Winston raised its stake in Diavik, which is just some 100 km from EKATI, to 40 percent in 2010 after buying back a share it had sold to miner Kinross Gold during the financial crisis.
"They and others have continued to look at securing the diamond supply to their downstream business, and arguably they have done a better job," the source with knowledge of the bidding process said. "They are definitely kicking the tyres."
Other suitors which have considered the BHP mine include some of the diamond industry's emerging players, the source said. Private equity houses have also been reported as potential bidders for the asset.
"It is a good cash flow business but there is a limited mine life," the source said. "From a cash flow perspective it is a good business if you can get it for the right value. It is pretty supportive of some leverage and given the outlook on diamonds... (private equity) may take a view on that."
But industry sources have cautioned against expecting a sale, as BHP has indicated it could also hold on to the operation until the end of its mine life in 2019, unless it gets attractive offers.
Last year, Harry Winston Chief Executive Robert Gannicott told Reuters the company was not interested in another producing mine, but rather was looking for development-stage assets.
"What I'd like to find is something that hasn't yet been started up, but with a recognized resource," Gannicott said in an interview in May 2011, before BHP announced it was reviewing its diamond presence. "Or a resource that we can measure and understand its true value."
BHP had initially expected a conclusion to its diamond review early this year, but extended that deadline in February to the end of the first half.
EKATI, the cornerstone of BHP's diamond business, has annual sales representing 11 percent of global diamond supply by value.
Analysts' estimates of the price tag the mine could fetch vary widely, from $500 million to over $1.5 billion, and even as high as $2.7 billion for BHP's 80 percent stake.
BHP and Harry Winston declined to comment. (Reporting by Clara Ferreira-Marques; Additional reporting by Euan Rocha and Julie Gordon in Toronto; Editing by Andrew Callus)
© Thomson Reuters 2023 All rights reserved.