Harry Winston eyes growth in northern Canada
TORONTO - Harry Winston, jeweler to the rich and famous, is looking for new opportunities to mine diamonds in northern Canada, where it already owns a large stake in a project operated by Rio Tinto Plc, one of the world's largest miners.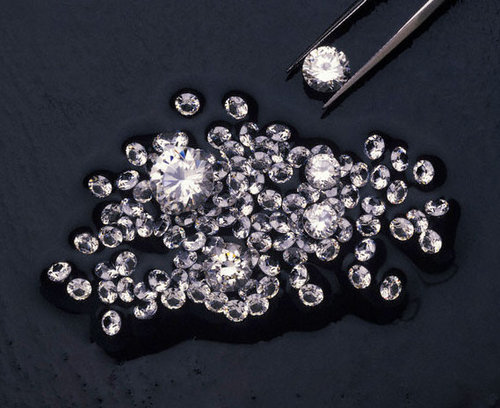 Photo: Corbis
Toronto-based Harry Winston confirmed it has right of first refusal for Rio Tinto's 60 percent interest in their joint Diavik diamond mine in Canada's Northwest Territories, but it would not comment further on Rio's statement it might sell its stake.
Harry Winston Chief Executive Robert Gannicott, in a conference call with investors on Thursday, said the jeweler is interested in projects that have well-defined resources, with a focus on pre-production stage properties.
"Obviously we're interested in any assets like that that are relevant to our sphere of expertise, which has certainly become northern Canadian-focused," said Gannicott.
Rio Tinto said last month that it is considering selling its diamond business to focus on more profitable metals. But analysts say the asset is likely beyond Harry Winston's reach.
"In my view I think it would be a challenge for them," said Edward Sterck, a mining analyst with BMO Capital Markets. "Their existing finances are not sufficient to buy out Rio's stake."
Because Harry Winston does not have experience operating a mine, he added, a development-stage project would be a better acquisition as it would give the company time to build up an operations team.
Rio's review follows a similar announcement by BHP Billiton and strongly suggests the sector - dominated by De Beers and Russia's Alrosa - is heading toward its most significant shake-up in more than a decade.
With four major diamond operations on the block between Rio and BHP, the market is abuzz with talk that smaller miners, jewelers and private equity funds could catapult themselves into the diamond industry's major league.
But Gannicott sees diamond mining as a very specialized business, where the processing, sorting and marketing side is just as important as digging ore out of the ground.
"It's not something that is easily undertaken by someone who is just a financial investor who wants to be invested in the diamond business," he said. "It looks to me like a narrowed field."
Shares of Harry Winston were down 5 percent at C$13.78 at in late afternoon trading on the Toronto Stock Exchange.
ROUGH DIAMONDS
The Diavik mine produced 6.7 million carats in calendar 2011 and output this year is expected to rise to 8.3 million carats. The company said it will not a release a long-awaited life-of-mine plan until after Rio's review, as project parameters could change.
The life-of-mine plan will give the market more clarity on future costs and operating rates.
Harry Winston, which gets 40 percent of output at Diavik, sold 2.1 million carats of rough diamonds at an average price of $137 per carat. That compares with 2.6 million carats at an average price of $106 per carat the year before. The company elected to hold some inventory in anticipation of rising prices.
Rough diamond prices tumbled in the second half of 2011, as new production from the Marange fields in Zimbabwe threatened to flood the market. By January, demand was returning to the market and prices were higher, the company said.
Late on Wednesday, Harry Winston reported a 17 percent increase in quarterly profit, boosted by rough diamond sales and prices. Sales at its retail business lagged because of fewer high-value transactions.
© Thomson Reuters 2023 All rights reserved.