Hanesbrands to close 9 plants; take charge
Underwear maker Hanesbrands Inc said it will close nine North American plants as it looks to shift manufacturing to lower-cost regions -- a move that will affect about 8,100 employees, or 16 percent of its workforce.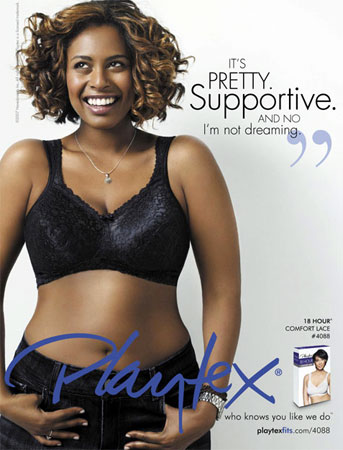 Playtex campaign
The company, whose brands include Hanes, Bali, Champion, Playtex and Wonderbra, expects restructuring-related charges of about $76 million, two-thirds of which will be taken in the third quarter.
"We are making significant progress in expanding our supply chain production capability in Asia and consolidating into fewer, larger facilities located in lower-cost countries around the world," CEO Richard Noll said in a statement.
The facilities that will be closed include 4 sewing plants in El Salvador, Honduras, Costa Rica and Mexico, 2 yarn plants, 2 knit-fabric textile plants and an inventory storage warehouse in the United States, Hanesbrands said.
The move, which will complete the migration of the company's large knit-fabric textile production from the U.S., is expected to be completed by the end of summer 2009.
Winston-Salem, North Carolina-based Hanesbrands expects to increase its workforce in Asia to 6,000 by the end of 2008, compared with the current headcount of 4,000.
Shares of Hanesbrands, which was spun off from U.S. foodmaker Sara Lee Corp in 2006, were up 13 cents at $23.96 Wednesday afternoon on the New York Stock Exchange.
(Reporting by Dhanya Skariachan in Bangalore; Editing by Pratish Narayanan )
© Thomson Reuters 2023 All rights reserved.