H&M profit beats forecasts, may pay out more cash
By Simon Johnson
STOCKHOLM (Reuters) - Fashion retailer Hennes & Mauritz reported better than expected fourth-quarter pretax profits and December sales on Thursday, raised its annual dividend and said it could return more cash to shareholders.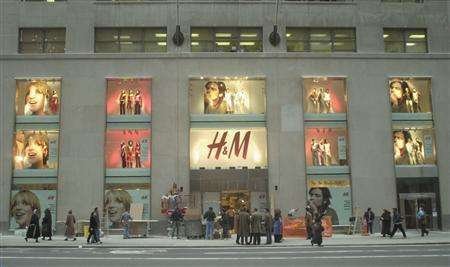 H&M, celebrating 60 years of operation this year, reported a pretax profit of 5.44 billion Swedish crowns ($780.8 million) in the fourth quarter, ahead of the average of analysts' forecasts of 4.94 billion crowns given in a Reuters poll and the 4.3 billion made in the same quarter last year.
It proposed a dividend of 11.5 crowns per share, up from 9.5 crowns, and added that the board "may propose that the surplus liquidity can also be distributed."
Shares in H&M were up 5.4 percent at 363 crowns at 0820 GMT.
"It looks like a strong report in all aspects -- good margins and it is good to see that they are looking at a potential extra payout," said one analyst who declined to be named.
A second analyst said the launch of H&M's Home textile concept through Internet and catalog sales planned for the autumn was "a good way to boost sales." "It is absolutely positive that they have found a new way to grow."
H&M Home will sell items such as bedding, curtains, towels and cushions.
The fourth-quarter gross margin widened to 61.8 percent from 60 percent in the same period of 2005 and ahead of the 60.9 percent forecast given by analysts in the poll.
December sales, the first month of its financial year, were up 16 percent on a year ago, which compared with analysts' expectations of a rise of 13 percent. Like-for-like sales were up 5 percent in December, compared with a forecast of 3 percent.
EXPANSION
"The garment mixes in the autumn collections were good and the collections have been well received. This continued into December," H&M said in a statement.
It said price reductions in general were at a lower level in the fourth quarter than in the same period last year, while it also had lower marketing costs and benefited from more efficient buying.
Stock-in-trade increased by 6 percent over the same period last year to 7.22 billion crowns -- 10.6 percent of sales or 20.3 percent of total assets.
H&M, which in December extended a deal with pop star Madonna after tie-ups with a number of famous designers, said it planned 170 new stores in 2006/2007.
H&M also said it would open its first high-end concept store, called Collection of Style (COS), in March, on Regent Street in London. Ten stores are planned for the year.
The COS stores will carry a range of clothes for men and women that are more expensive than the mainstream H&M shops. Stores are also planned for Germany, the Netherlands and Belgium.
Sales for the full year 2005/2006 were up 12 percent at 68.4 billion crowns from 61.262 billion.
The firm had 1,345 stores at the end of November 2006 against 1,193 stores a year earlier.
(Additional reporting by Rebecka Kihlstrom)
© Thomson Reuters 2023 All rights reserved.