H&M fourth quarter beats forecasts
By Nicholas Vinocur and Veronica Ek
STOCKHOLM (Reuters) - Swedish clothing retailer Hennes & Mauritz stoked hopes for a turnaround in 2010 on Thursday 28 January, with a sharp rise in December and January sales and better-than-expected quarterly earnings.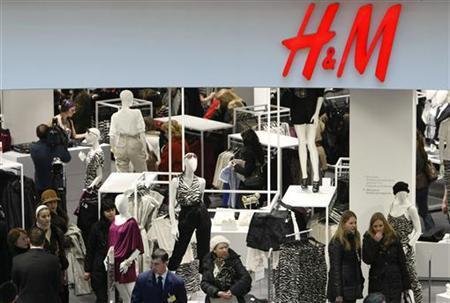 H&M shares shot up 8.9 percent to 438 crowns at 12:22 p.m..
The company, which faces stiff competition from retailers such as U.S. group Gap Inc and Spain's Inditex, has weathered the economic downturn better than many rivals thanks to its geographic spread and low-price profile.
But it has undershot sales forecasts for the last three months of its fiscal year, which runs to end-November. H&M turned a corner in December with a 3 percent rise in same-store sales, versus a 1.1 percent fall seen in a Reuters poll.
That was the first positive result for same-store sales since April 2009, and the momentum appeared to carry over to this month as total sales up to January 26 were up 13 percent from a year earlier.
"I would call it a very solid report, profit-wise," said Soren Lontoft Hansen, an analyst at Sydbank.
Also fuelling enthusiasm for H&M shares, Chief Executive Karl-Johan Persson told a news conference the company increased its share of all of its markets in the fourth quarter and was optimistic about 2010.
"Given the economic situation, it's difficult to say what will happen, but we hope for and expect positive like-for-like sales (next year)," he said.
H&M's fourth-quarter gross margin improved to 66.3 percent from 62.4 percent a year earlier, beating forecasts for a flat margin. The company expects a campaign of sharp markdowns in early 2010 to eat into margins in the first quarter.
"It's a stellar gross margin, but you have to wonder whether it's sustainable over the medium term with the likes of Primark expanding into Germany,"said Luca Sola, an analyst with Bernstein in London.
Germany is H&M's biggest market, accounting for about a quarter of total revenue.
H&M, which has pioneered a strategy of offering high-profile brand names like Jimmy Choo and Sonia Rykiel at knock-down prices, posted fourth-quarter pretax profit of 7.99 billion Swedish crowns (676 million pounds), beating an expected 6.97 billion crowns in a Reuters poll of 25 analysts.
MARKDOWNS
H&M may face its toughest competition further down the price chain, with British discount retailer Primark and online clothing store ASOS both posting double-digit rises in sales during the crucial Christmas shopping period.
"Whereas UK retailers saw a good cyclical recovery coming through last year, perhaps the European retailers have been lagging that a bit," Anne Critchlow, analyst at SG Securities, said. "But perhaps finally it's come through for them."
"It's hard to strip out the effect of markdowns and how that might have boosted sales, but on the face of it, it looks like a bit of turnaround (for H&M)," she added.
H&M is betting on store expansion and markdowns in its first fiscal quarter to counteract the lingering effects of the global economic downturn. It plans to open about 240 outlets in 2010.
Despite signs consumer sentiment is improving, euro zone retail sales still fell more than expected in November.
Retail sales in Sweden rose 0.2 percent in December from November and were up 4.5 percent from a year earlier, the statistics office said on Thursday 28 January.
The figures compared with expectations for a monthly rise of 0.8 percent and an annual increase of 5.3 percent.
Inditex's shares were up 3.8 percent at 12:22 p.m., signalling a general rise in confidence in the sector following H&M's figures. The DJ retail index was up 2.0 percent.
(Additional reporting by Katarina Gustafsson in Stockholm and Mark Potter in London; Editing by Rupert Winchester)
© Thomson Reuters 2022 All rights reserved.