H&M and Unicef launch children's collection
This September, H&M will take its All For Children initiative, which it launched in 2009 in partnership with Unicef, one step further by creating a special collection of fashionable clothes for kids.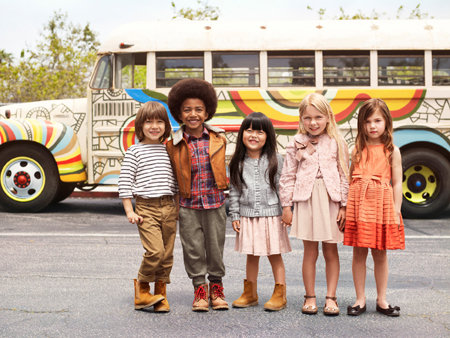 All For Children
Available in 150 stores worldwide and also on-line, 25% of all sales from the All for Children collection will go directly to support Unicef's projects to promote children's rights to education and protection among vulnerable communities.
All for Children is a five-year project that is supported by a 4.5 million dollar donation from H&M and is now being extended from communities in southern India to also help children in Bangladesh.
The All for Children collection is made to be versatile, so the pieces can be mixed and matched and worn throughout the season and beyond. Designs are updates of well-loved classics, giving them a contemporary twist. For girls there are dresses, skirts, shorts and gilets, with floral prints, bow-tie decorations and stripe trimmings, all in autumnal colours of nude, mole and coral. For boys, there are check shirts, sweat-pants and hoodies, cord blazers and the essential parka.
Funds raised by the collection will support the All for Children initiative, which aims to create long-term change for generations of children in some of the poorest parts of the world, where many of H&M's clothes are made. H&M will support Unicef work to protect children's rights in Bangladesh, which will help provide access to schools.
Copyright © 2023 FashionNetwork.com All rights reserved.