Guess chooses Wall Street to launch new perfume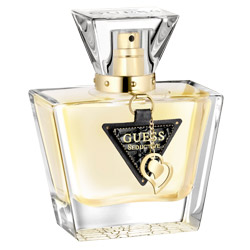 New perfume Guess Seductive
August 31st is the designated day that Guess Inc co-founder Maurice Marciano rings the NYSE Opening Bell to celebrate the listing of new fragrance, Guess Seductive.
A one hundred-old tradition, the Opening Bell has become a real customary instatement. The three chimes of the bell are no longer exclusive for the industry's legends. Nelson Mandela, rock band Kiss, rapper Snoop Dogg, even Darth Vader and Duracel's rabbit mascot have kicked-off the day with this ceremony to communicate various events.
This occasion therefore lends itself this time to Guess Inc to mark the launch of new perfume Guess Seductive. The event will be broadcasted live on the American Stock Exchange's website as well as Guess.com. Images may then be projected within the brand's 448 stores owned across the Atlantic.
Original by Matthieu Guinebault. Translated by Rosie Hart
Copyright © 2023 FashionNetwork.com All rights reserved.