Gucci establishes flag-ship store in Shanghai
In 1997 Gucci began the construction of its Chinese network. "Today, it is no longer an emerging market for the house, it represents one of the most dynamic regions for retail sales growth", stated Gucci. In other words, China is a market to indulge. This is why the house has added a flag-ship, 1,600 m² store to its network of twenty-seven boutiques.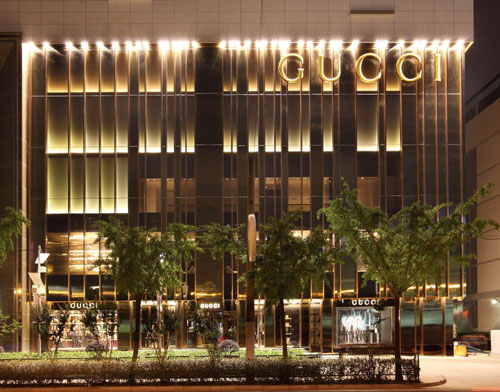 Storefront of the new Gucci boutique in Shanghai
Built in Shanghai, at the intersection of Nanjing Road West and Shanxi Road North, over five floors it reveals the new concepts instilled by Frida Giannini – artistic director at Gucci since February 2006.
"The main objective of the new concept was to bring light into our boutiques," she explained. "Each city has its own characteristics and a unique flavor, but they all contain a keen sense of luxury and intimacy. For Shanghai, I wanted to integrate a modern architectural expression which is in harmony with the sensibilities of the city, but also closely linked to the materials and iconic elements of the brand, issues of Gucci's heritage."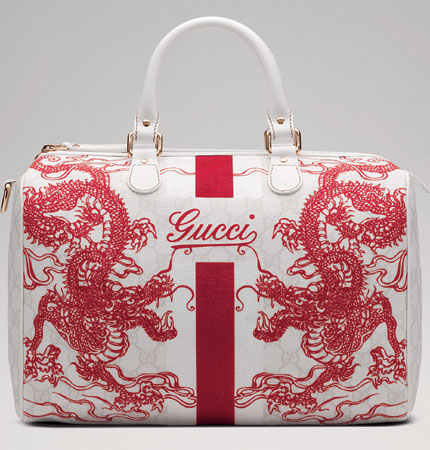 Shanghai Dragon bag by Gucci
Her concept draws on opening up space, using luxury materials such as rosewood, marble, corrugated glass, bronze or polished pink gold, but also using natural light, which is placed to the fore thanks to large storefront (19m x 43m) in glass and gold. The stairs should also not be overlooked, they are "brightened up by a series of vertical rods in gold and transparent plexiglass, allowing light to reflect the space", explained the house which has created for the occasion a special edition bag: the Shanghai Dragon. Adorned with two red dragons as an "homage to Chinese ancient culture and iconic symbolism", only two hundred bags have been made.

By Jonathan Fulwell (Source: Julie Mangaud)
Copyright © 2023 FashionNetwork.com All rights reserved.