Grace Kelly's classic style comes alive in London
You'd better hurry if you want to see the hats, shoes, dresses and immaculate gloves that were an essential element of the style which made Grace Kelly a fashion beacon for millions of women around the world.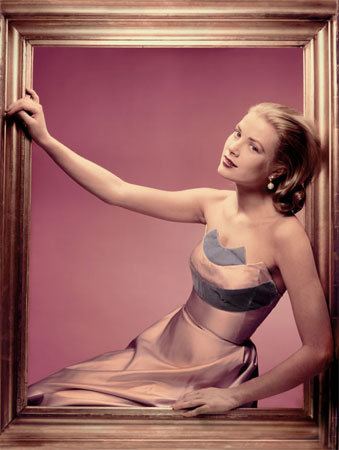 Erwin Blumenfeld, Portrait of Grace Kelly, New York, 1955. © The Estate of Erwin Blumenfeld 2009
The "Grace Kelly: Style Icon" exhibition at London's Victoria and Albert museum will be closing its doors in September, so there are only a few weeks left to see the clothes, mementoes and videos which replay the life of Hollywood royalty turned real-life princess.
Set in the museum's fashion section, the show holds more than 35 of Kelly's outfits made by famous designers such as Edith Head, Helen Rose, Yves Saint Laurent, and many by Kelly's personal favorite, Christian Dior.
Show visitor Margret Bennett told Reuters the exhibition was a must-see for Kelly enthusiasts like her.
"Grace Kelly was the style icon of my day, and an inspiration," she said.
Ball gowns in silk chiffon by Dior and travel suits in wool by Coco Chanel are matched with film posters from old movies such as "To Catch A Thief". Pictures and magazine covers depict Kelly starring in films alongside the top leading men of the day like Cary Grant, Bing Crosby or Clark Gable, and winning an academy award and floating up the red carpet.
The museum's Fashion and Textiles Curator Jenny Lister said Kelly's style owed its enduring appeal to her simplicity and attention to detail.
"Because she had worked as a professional model, she knew how to make clothes work in photographs and movies, and although fashion changed a huge amount through the 1950s, '60s, and '70s, she remained faithful to her fondness for classic styles," Lister told Reuters.
"She spoke about how she thought clothes should flatter the wearer -- not overwhelm."
Each garment is placed in categories such as evening wear or travel suits in groups in glass cases, complete with pictures of Kelly wearing the item and a full analysis including designer details, date and fabric.
London fashion student Rebekah Bogle -- who was sketching a number of the outfits on display -- said people are fascinated by Kelly's style because of the fairytale quality of her life story: the American commoner who became a European princess when she married Prince Rainier of Monaco.
"A lot of people like that idea of becoming something else," the 22-year-old Bogle said.
Some cases highlight Kelly's accessories, including one with the still sought-after "Kelly" bag made by French luxury retailer Hermes.
Other accessories include silk clutches, bags made from crocodile skin, a collection of Kelly's sunglasses and some of her signature hats, including those worn to the glamorous fancy dress balls she and Rainier threw in the heydays of Monaco's cool popularity during the 1960s and 70s.
A platinum and diamond tiara is the top highlight in a case full of Kelly's jewelry, which also includes brooches and rings festooned with diamonds, rubies, emeralds and sapphires.
The video footage of Kelly in two separate locations inside the exhibition remind visitors of Kelly's famously graceful comportment in film clips from such movie classics as "High Society" to her arrival by boat for her marriage.
By Tamsin Barber and editing by Paul Casciato
© Thomson Reuters 2022 All rights reserved.