Givaudan H1 profit slumps on forex, raw materials
August 4 - Fragrance and flavour maker Givaudan's first-half net profit dropped 40 percent to 120 million Swiss franc ($156.6 mln), missing expectations, as the record-high Swiss franc and rising raw material prices weighed.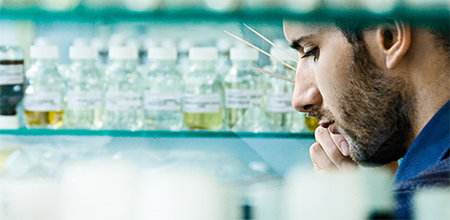 Givaudan: Swiss manufacturer of flavorings and fragrances
Givaudan, which makes food flavours as well as fragrances for Dior and Prada perfumes, is grappling with slowing consumer demand that may make it more difficult to push through the price hikes necessary to offset higher costs for raw materials.
"Givaudan expects that input costs will increase by an average of 15 percent in 2011 compared to 2010," the company said in a statement on Thursday, adding it expected price increases to mitigate half of the impact of higher raw materials this year.
The rise in raw materials is higher than expected, Vontobel analysts Claudia Lenz and Jean-Philippe Bertschy said. "The share will certainly be weak today," they said.
Givaudan shares have underperformed those of rivals Symrise and American International Flavors & Fragrances this year, as investors worried about currency pressure caused by the appreciation of the Swiss franc.
The group, which also competes with Germany's Symrise, reiterated it wanted to grow organic sales between 4.5-5.5 percent per year over the midterm.
It also confirmed it aimed to return over 60 percent of the company's free cash flow to shareholders once the targeted leverage ratio of 25 percent has been reached. The ratio stood at 33 percent at the end of June.
Group sales rose 4.3 percent in local currencies to 2 billion Swiss francs in the first half, below expectations in a Reuters poll, but fell 8.8 percent in francs due to the strong appreciation of the Swiss currency.
Sales of the group's fine fragrances, which are used in perfumes, fell slightly in local currencies after rising strongly during the same period last year when retailers restocked perfumes after the financial crisis.
Givaudan shares trade at around 13 times estimated 2012 earnings, at a discount to IFF at about 14 times but at a premium to Symrise at close to 12 times. Givaudan shares will be included in the Swiss blue-chip index SMI from September 19.

(Reporting by Silke Koltrowitz; Editing by David Cowell)
© Thomson Reuters 2023 All rights reserved.