Giorgio Armani courts Russians with dazzling shows
By Lidia Kelly
MOSCOW (Reuters Life!) - Italian designer Giorgio Armani wowed Russian fashion-lovers with dazzling shows in Moscow this week, banking on a recovery for the world's fourth largest luxury goods buyer.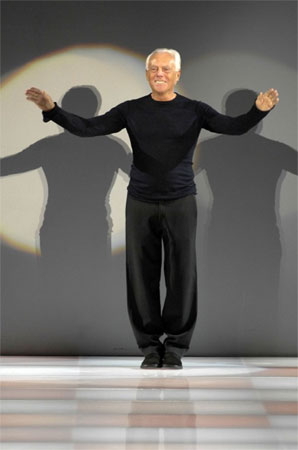 Giorgio Armani - Photo : Pixel Formula
While others are still cautious about the crisis-hit Russian market, Armani was the first major designer in the last year to come to the Russian capital, betting its passion for fashion will help further expand his business there.
The 75-year-old designer hosted a special show of autumn/winter and Prive collections at the Barvikha luxury shopping center just outside Moscow, as well as another show at the Tsarist-era GUM shopping center near Red Square.
"Moscow is a very promising city from many points of view, but most definitely from the fashion point of view," the frail designer, recovered from a bout of hepatitis, told reporters.
Dressed in a black velvet suit, crisp white shirt and dark tie, Italy's "King of Fashion" heaped praise on Mother Russia: "The Russians became a model for excellence."
Armani has 10 stores in Russia -- for both Emporio and Giorgio Armani -- and more than 200 authorized points of sale, accounting for about 5 percent of the company's global wholesale revenue.
This is still less than half of what the Chinese market accounts for in terms of the group's revenues. GUM cashed in revenues of 15 million euros ($22 million) since opening last year, according to Konstantin Andricopoulos, commercial development director at GUM.
Hundreds of elegantly dressed fans crowded the Armani pavilion on Thursday (29 October) night, sipping champagne and nibbling black caviar.
But in a more telling sign of cracks still in the system, the rest of the shops at the Barvikha luxury village -- which resembles a polished, U.S. outdoor shopping mall -- were eerily deserted.
The financial crisis took its toll on Russia's luxury market this year, prompting sales to plummet and boutiques to board up their windows. Moscow stores for designers Alexander McQueen and Stella McCartney closed less than 18 months after opening.
Russian fashionistas say they are hopeful for a recovery.
"The market will recover, but it will be a very different market from what we had seen before -- it's going to be much more careful," said David Kramberg, Giorgio Armani's commercial director for Russia.
Armani group Deputy General Manager John Hooks said Russians also like to shop abroad for Armani goods.
"We know that a lot of our sales in London, for example, go to Russian clients," Hooks said.
He added that events similar to Moscow in scale -- with personal appearances by Italy's doyen of fashion -- are planned for next year in Dubai.
As well as the shows, Armani had a series of private viewings of his haute couture collection at a glitzy Moscow hotel. The meetings "went very well", Hooks said.
Russian-Italian designer Natalya Picariello, who attended the show on Tuesday 27 October, said Russian women's lust for luxury and excess will keep Armani in Russia.
"Armani came here because he knows Russian women love to dress well and they love fashion," she said. "They won't ever stop spending, especially now the crisis is petering out."
(Additional reporting by Amie Ferris-Rotman, Writing by Lidia Kelly; Editing by Marie-Louise Gumuchian and Steve Addison)
© Thomson Reuters 2023 All rights reserved.