Genesco posts narrower-than-expected second quarter loss; shares up
Aug 27 (Reuters) - Shoe and hat retailer Genesco Inc (GCO.N) posted a second-quarter loss that was narrower than market expectations, on improved cost-cutting efforts, and backed its full-year profit outlook, sending its shares up 11 percent.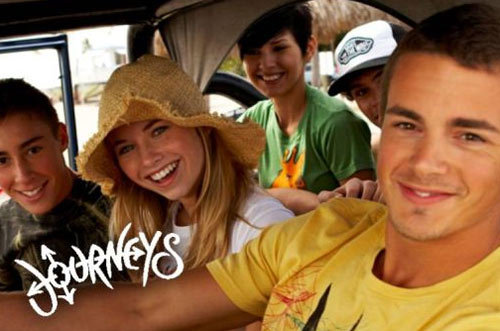 Journeys from Genesco - Photo: www.genesco.com
The retailer, which saw same-store sales fall 8 percent in the quarter, said sales comparisons would moderate in the second half of the year and expects sales at stores open at least a year to grow in the fourth quarter.
Genesco, which sells branded footwear and headwear in more than 2,240 stores in the United States and Canada, has closed 24 unprofitable stores this year which will help its bottomline in the second half, Chief Executive Bob Dennis said on a conference call with analysts.
Over the next year, it has 227 more stores coming up for renewal or a kick-out negotiation, he said.
Genesco, which also sells footwear at wholesale under its Johnston & Murphy brand and under the licensed Dockers brand, reduced overall wages per store by 2 percent in the quarter and saw flat occupancy costs per square foot -- an improvement over past trends, Dennis said.
The company, whose brands include Journeys and Hatworld, posted a second-quarter net loss of $2.8 million, or 13 cents a share, compared with a loss of $10.8 million, or 58 cents a share, a year ago.
Excluding items, it lost 2 cents a share compared with analysts' average estimate of a loss of 4 cents a share, according to Reuters Estimates.
Revenue for the three months ended Aug. 1 fell 5.2 percent to $334.7 million. Selling and administrative expenses fell 2.8 percent to $164.8 million.
Genesco expects full-year per-share profit in the range of $1.70 to $1.80.
Historically, the company generates about 55 percent of its total sales and 75 percent of its total operating income in the second half.
Shares of the company were up $2.38 at $23.19 Thursday (27 August) morning on the New York Stock Exchange. (Reporting by Mihir Dalal in Bangalore; Editing by Ratul Ray Chaudhuri)
© Thomson Reuters 2023 All rights reserved.