Gaultier proves spirit intact in first show since sale
July 7 - Jean-Paul Gaultier turned models into movie stars on Wednesday in a theatrical display for his fall-winter haute couture collection, proving he has lost none of his taste for fun since the sale of his brand.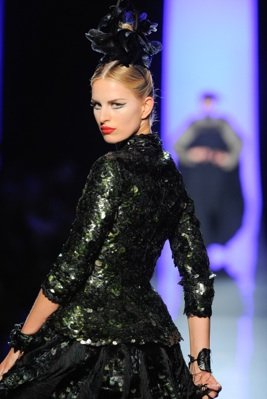 Jean Paul Gaultier Autumn-Winter 2011/2012 Haute Couture collection
Fashionistas packed the benches at Gaultier's Right Bank headquarters to see if the irreverent French designer had altered his approach since May, when Hermes sold a controlling stake in his brand to Spanish fashion group Puig.
But any doubts were laid to rest from the outset of the show, which kicked off with a 30-minute delay, as a statuesque model emerged onto the runway in a bold, pinstripe pant-suit.
Drawing on his alternate persona as a costume designer for the movies, Gaultier sent out every model in cinematic style with a shifting musical score, atmospheric touches, and plenty of Hollywood glamour.
Except for a black evening dress that drew a peal of applause, the show was vintage Gaultier, with few concessions to mass market appeal in spite of a new paymaster who promises to make the struggling brand profitable by 2016.
"Gaultier is one of my closest, dearest, oldest friends and I am just so excited to support him at such a momentous time in his career," said Milla Jovovich, a Ukrainian-born actress and model who starred in Luc Besson's 1997 film, "The Fifth Element," for which Gaultier designed the costumes.
Gaultier emerged as one of the leading young talents in French fashion during the early 1980s, shaking up the establishment with wild designs drawn from street culture, punk and the leather-and-chains gay scene.
The wild side of his early years was on full display at the show as models strutted the catwalk puffing cigarettes and men appeared wearing frilly skirts, massively oversized coats and, in one case, a full beard and waxed moustache.
Gaultier has held onto his cachet as one of the few household names in high fashion -- alongside Karl Lagerfeld and the now disgraced John Galliano -- but his company has been losing money as perfume royalties, combined with ready-to-wear, couture and other revenues, have fallen short.
The French designer is eager to raise fresh funds to develop his fashion brand and sell his wares in new markets such as Asia, where rival Parisian houses Dior and Chanel have long since begun the work of building out their empires.
While buyers' reaction to Gaultier remains to be seen, fashion lovers said they were delighted with the high-colour theatrics typical of his shows.
"As usual, Gaultier puts on a spectacle, and as always there is a big element of surprise -- that's why we come back whenever we can," said Lamaa, a Gaultier fan from Abu Dhabi who asked that her full name not be published.
© Thomson Reuters 2023 All rights reserved.