Gap jeans go premium in move to fill style gap
SAN FRANCISCO, Aug 13 (Reuters) - Gap Inc (GPS.N), once the go-to U.S. retailer for jeans, is betting on a major revamp of its self-branded denim line to revive its cachet and sales.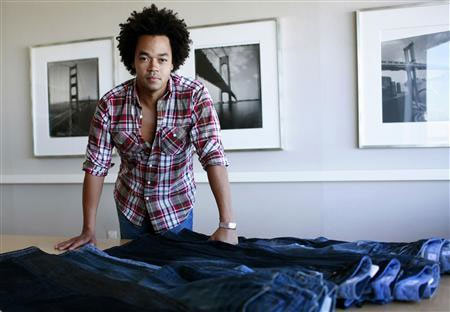 Patrick Robinson, head designer for Gap, Inc., poses for a photograph with denim jeans in Santa Francisco, California - Photo: REUTERS/Robert Galbraith
The relaunch of men's and women's denim, which one analyst estimates could account for 20 to 30 percent of Gap brand sales, comes near the tail end of a two-year turnaround effort at the apparel giant.
Gap is hoping its new, more stylish array of better-fitted jeans -- which began to appear in stores on Wednesday 12 August -- will lure back shoppers lost to a host of rivals in recent years. Its message, "Born to Fit," is carried by a digital and print marketing campaign.
Denim, which has the power to draw in store traffic, is a cornerstone for the 40-year-old retailer, which helped make jeans and T-shirts an acceptable casual uniform for American society.
Gap, which includes the Old Navy and Banana Republic chains, battled weak sales even before the U.S. recession but has been trying to put its house in order. It has trimmed costs and streamlined operations -- successful efforts that boosted margins but had little effect on revenue.
"Since 2007, the focus was on cleaning up the business model, returning the brand to one sold at regular price, managing expenses, and looking at the real estate strategy," said Gap North America President Marka Hansen.
She described those efforts as "infrastructure work at making the brand healthy," which paralleled moves to improve design and merchandising within different product areas.
The new denim line is the culmination of a year and a half of re-engineering Gap jeans to focus on fit, while making them more stylish and premium.
Most styles cost $54 and $59, with more complicated washes at $69. "1969," the year Gap was founded in San Francisco, is screenprinted on the inside of each waistband. Each pair of jeans includes one blue rivet as a quirky touch.
The head designer for the Gap brand, Patrick Robinson, saw denim as a category sorely in need of an overhaul when he joined the company over two years ago.
"It wasn't relevant," Robinson said in a interview at the brand's San Francisco headquarters. "It wasn't in the place where denim needed to be in today's world."
HIGH STAKES
Gap's casual, relaxed styles were adequately represented, but there was a gaping hole in the assortment: premium, upscale denim that Robinson calls "high-stakes" jeans.
A surge of premium brands from True Religion Apparel Inc (TRLG.O) to Rock & Republic -- whose jeans cost over $100 but purportedly offer more sophisticated styling and fits -- has cut into sales at a host of former denim stalwarts.
Levi Strauss, whose jeans were carried at Gap stores in the 1970s and 1980s before the retailer began selling only Gap label merchandise in 1992, also has been upgrading its denim to positive consumer response in the past two years.
And a host of teen retailers have made denim a key part of their lines. Jeans at American Eagle Outfitters Inc (AEO.N) and Aeropostale Inc (ARO.N) can sell for as low as $25, while Abercrombie & Fitch Co (ANF.N) price them at $69.90 and up.
Brean Murray Carret analyst Eric Beder called denim the "weapon of war" among teen retailers in a recent note.
Needham & Co analyst Christine Chen said women who won't shell out $200 for jeans but are looking for "age-appropriate" fits could make the denim launch at Gap -- whose target customer is ages 25 to 35 -- a success.
"They've (Gap) had a hard time with their denim even though historically they were a denim destination," said Chen. "It's been a missed opportunity for them and they've had to compete with so many new entrants."
Designer Robinson strove for premium fits, but without the high price tag: "What learning could we take from the premium market? I didn't want to create a $125 jean. I think that's obnoxious. I wanted to make it Gap."
Robinson assembled a production team and brought in senior factory workers to be trained on new sewing techniques to make better-fitting jeans. He would not elaborate.
Gap, which posts second-quarter results on Aug. 20, has seen a recent sales uptick at its Old Navy chain, whose lower-cost clothing appeals to families. However, thrifty consumers have shied away from higher prices at Banana Republic, and same-store sales at Gap stores have fallen every month this year.
(Reporting by Alexandria Sage; Editing by Richard Chang)
© Thomson Reuters 2023 All rights reserved.