Gap beats targets, but warns of 2011 margins
Feb 24 - Gap Inc said soaring cotton and petroleum costs might hurt margins in fiscal 2011, as it struggles to re-energize growth, offsetting a higher-than-expected 4 percent jump in quarterly earnings.

The shares of the operator of the Gap, Old Navy and Banana Republic brands, which in 2010 was overtaken by Spanish fashion label Zara in global sales worldwide, gained about 2 percent in after-hours trading.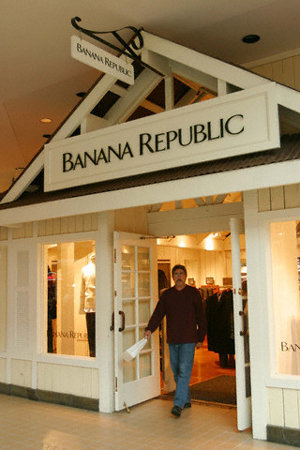 Banana Republic store in New Jersey, United States
Sourcing costs will drive down operating margins this year from 2010's 13.4 percent, squeezed by the higher prices of cotton and petroleum-based synthetics that have swelled the cost of making garments for all apparel makers.
That warning came as a fiscal 2011 income forecast squeezed past Wall Street's targets. The company also raised its 2011 dividend 25 percent and approved $2 billion in additional share buybacks.
Gap -- battling a slew of rivals, including American Eagle Outfitters Inc on its home turf while fending off Inditex Zara and H&M globally -- has been revitalizing its merchandise to try and spur shopper loyalty.
But its sales performance has remained inconsistent. Chief Executive Glenn Murphy has expressed frustration with the slow turnaround of its flagship Gap chain, recently replacing the head of that casual brand with outlets chief Art Peck.
Gap said the focus in 2011 would be to continue remodeling its large Old Navy stores, focusing on a smaller format, while opening company-owned and franchise stores abroad.
It plans to open about 50 company-owned stores internationally -- including 10 to 15 new stores in China -- and about 75 franchise stores during the year.
But it intends to close 125 stores, particularly in North America, compared with about 103 in 2010.
HIGH BAR
Although Gap shares have been rising since the beginning of the year, they have not reached the nine-year high of $26.21 gained in April of last year as the stock market rallied and confidence grew in the economic recovery.
The company faces intense competition from a host of retailers selling casual American fashion and some analysts say its stores are too large and its fashion inconsistent.
Still, Gap gave a 2011 profit outlook that was above Wall Street's estimates. It said 2011 earnings would range between $1.88 and $1.93 -- above the $1.86 expected by analysts.
Net income in Gap's holiday fourth quarter rose 3.7 percent to $365 million, or 60 cents per share, from $352 million, or 51 cents per share, a year earlier.
Analysts, on average, had expected earnings of 57 cents per share, according to Thomson Reuters I/B/E/S.
As previously reported, revenue rose nearly 3 percent to $4.36 billion, as same-store sales, a key measure of retail performance, were flat.
Also on Thursday, department stores Macy's Inc and Kohl's Corp posted gains in fourth-quarter profit that were better than expected and in line with expectations, respectively.
Old Navy, which sells lower-cost fashions to families, has been remodeling its stores to a smaller and easier-to-shop format. It said some 400 stores would be remodeled by the end of 2011.
Capital expenditures in 2011 will increase to about $575 million from $557 million last year due to the international store openings and Old Navy remodels.
Gap increased its quarterly dividend to 45 cents per share for fiscal 2011 from 40 cents per share in 2011.
(Reporting by Alexandria Sage; editing by Andre Grenon)
© Thomson Reuters 2023 All rights reserved.