Gap 1969 Premium is now for the whole family
June 2009 marked Gap's 40th birthday and a turbulent year delivered positive results, so bouncing back from the crisis it launches a premium line. Originally dedicated to adults, the collection has diversified into baby wear almost a year later. In June 2010, the "Gap 1969 Premium Jeans" collection therefore includes children's wear ". We are delighted to now offer 1969 Premium Jeans to all generations," said Mark Breitbard, Executive Vice President.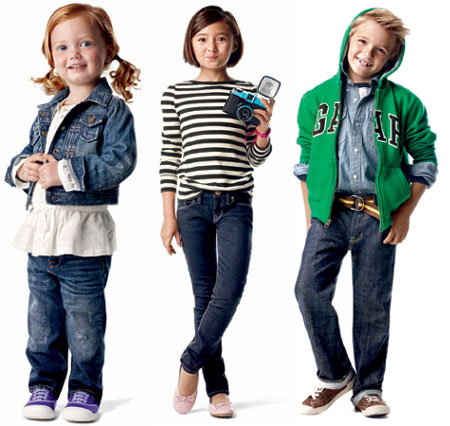 Gap Kids 1969 for boys and girls
Gap are as delighted with the range as another new opportunity; the American brand is adding a pop-up store on the Robertson Boulevard in Hollywood. Named '1969 Kids', it will host every Saturday until August 21st, special events for children and their parents.
This range, in line with Gap's core values, seems to have had its effect on the denim scene. Moreover, the group regained growth since the beginning of the year. During the first quarter of its fiscal year, which began in early February, it has seen its net sales grow 6% to over 2.6 billion Euros.
By Rosie Hart. Original source: Julie Mangaud
Copyright © 2022 FashionNetwork.com All rights reserved.