French Connection sells Nicole Farhi
LONDON (Reuters) - Fashion group French Connection (FCCN.L) is selling its loss-making Nicole Farhi brand and closing most of its U.S. stores, completing a restructuring drive aimed at returning it to profitability.
The group, which has previously exited businesses in Japan and Northern Europe, said on Monday 15 March it made a loss after tax of 24.9 million pounds in the year ended January 31, up from a loss of 16.4 million the year before.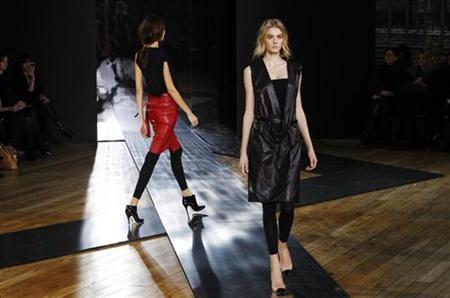 But businesses being kept made an operating profit of 1.3 million pounds on a 1 percent rise in revenue to 200.3 million.
French Connection said it was selling Nicole Farhi to U.S. private equity firm OpenGate Capital for up to 5 million pounds.
It will also close around 17 U.S. stores at a cost of about 6.5 million pounds, cutting its presence in that country to about six stores.
"We have had to make some tough decisions, but (...they leave) us with a continuing business that we expect will be both profitable and cash generative even in the current difficult economic environment," Chairman and Chief Executive Stephen Marks said.
French Connection, which has struggled to reposition itself in recent years after the popularity of its FCUK brand waned. said like-for-like sales at UK and European businesses that are being retained rose 2.8 percent in the year ended January 31.
Forward orders also rose in its UK and European wholesale business for winter 2010, it added.
The group cut the full-year dividend to 0.5 pence a share from 1.7 pence the year before.
French Connection shares have slumped 23 percent over the last 6 months, underperforming the UK general retail index .FTASX5370 by about 50 percent.
They closed at 42 pence on Friday 12 March, valuing the business at about 40 million pounds.
(Reporting by Mark Potter, Editing by James Davey)
© Thomson Reuters 2022 All rights reserved.