Fendi wins counterfeits injunction against Filene's
NEW YORK, March 12 (Reuters) - The Italian fashion house Fendi won a court victory when a Manhattan federal judge ordered Filene's Basement to stop selling handbags and other goods bearing the Fendi name or trademark without permission.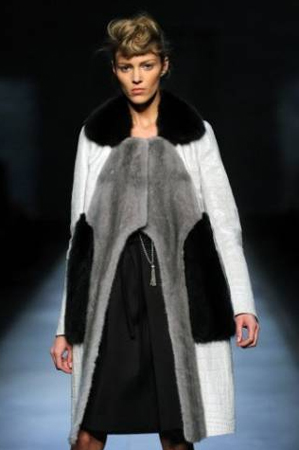 Fendi - Photo : AFP
U.S. District Judge Richard Berman on Thursday 11 March granted a permanent injunction halting such sales.
He said a jury should decide at trial whether Filene's conduct was willful, and whether Filene's former parent Retail Ventures Inc should also be held liable despite its argument it was merely a holding company.
"It is undisputed that Filene's used Fendi's famous marks and trade name in commerce after the marks had become famous," Berman wrote in a 45-page opinion.
The judge ordered both sides to enter settlement talks, and to appear in court on April 1 to discuss their progress.
"We're disappointed the case was not entirely resolved, but are pleased with the rulings that make clear Filene's Basement was counterfeiting," said Richard Mattiaccio, a partner at the law firm Squire Sanders in New York, who represents Fendi.
He said the case is ready for trial but hopes it can be settled.
A lawyer for Retail Ventures did not immediately return a request for comment.
Syms Corp (SYMS.O) and Vornado Realty Trust (VNO.N) bought Filene's at a bankruptcy auction in June.
Another judge in the same court last month ordered Burlington Coat Factory Warehouse Corp to pay Fendi about $4.7 million for violating a similar injunction, records show.
Fendi's four-year-old lawsuit is one of many brought by luxury goods companies to protect their trademarks.
These companies are trying to thwart alleged counterfeiters whose products they believe will damage their reputation, confuse consumers and reduce sales.
This month alone in Manhattan federal court, Burberry Group Plc (BRBY.L) sued TJ Maxx parent TJX Cos (TJX.N), Coach Inc (COH.N) sued Sears Holdings Corp's (SHLD.O) Kmart unit, and LVMH Moet Hennessy Louis Vuitton SA (LVMH.PA) sued Hyundai Motor Co (005380.KS) over alleged trademark violations.
Fendi had accused Burlington, Massachusetts-based Filene's of selling fake Fendi-branded handbags and other leather accessories, even after receiving legal notices to stop.
In his ruling, Berman said Filene's failed to rebut evidence that it was selling counterfeit Fendi-branded goods, and failed to rebut a presumption of bad faith.
He also rejected Filene's use of "mere speculation or conjecture" that the alleged infringing items might have been obtained via the gray market or "authorized" Fendi retailers.
The case is Fendi Adele s.r.l. et al, v. Filene's Basement Inc et al, U.S. District Court, Southern District of New York, no. 06-00244. (Reporting by Jonathan Stempel, editing by Dave Zimmerman)
© Thomson Reuters 2023 All rights reserved.