Fashion Expo Arabia, a grand fashion event in Abu Dhabi
Abu Dhabi, until recently relatively quiet in the world of fashion having preferred tourism and other cultural development, has now countered this reserved stance and stepped out into the sector. From the 26th to the 28th of October, Fashion Expo Arabia, a trade show dedicated to fashion professionals in the middle and upper levels of the market, will welcome more than 550 exhibitors from the four corners of the world.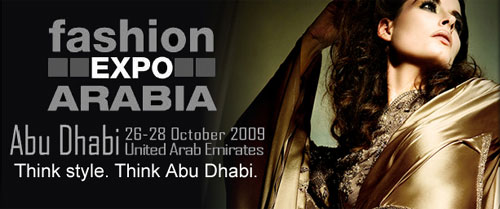 Affiche de Fashion Expo Arabia 2009
This is the first of its kind to be held in Abu Dhabi and it has pulled out all the stops to attract the key players to the region with Emirati and Indian invitees the most represented, but there is also strong European presence, principally coming from England, France, Italy, Spain and German.
After Mecom (Middle East Communications & Forums), the organisers of the trade show have grouped together upwards of 550 exhibitors, both brands and suppliers for fashion sectors such as sportswear, lingerie and beach wear. This large offering will propose lines for men, women and children.
Furthermore, Fashion Expo Arabia has teamed up with the Shoe & Leather Fair Middle East, which has received the backing of the Italian shoe federation, as well as the optics trade show Optical Middle East.
The organisers hope to see some 5,000 visitors at the event, with a large proportion coming from the region itself. Key players from the Indian industries and department store buyers have also confirmed their attendance, and with good reason. Though Abu Dhabi currently sits in the shadow of its extroverted rival Dubai from a fashion point of view, the emirate is in a period of transformation and has big aspirations. This can be seen in the millions of dollars successfully invested in the tourism and cultural industries, boosting these areas and helping to forge partnerships with global names; a strategy that could well be applied to the fashion sector with a strong retail base in evidence with the recent, but numerous, emergences of shopping centres.
As with many major trade shows, Fashion Expo Arabia will be hosting a series of catwalks, round-tables and conferences. Abu Dhabi has further more hooked some big names for the event, such as Gaspard Yurkievich and Karine Arabian from France, Carta E Costura of Italy and Kyri from England.
The presence of WGSN cannot be overlooked, with the exclusive sponsor running different seminars every day of the show which will present the big trends and sector perspectives for the fashion world. All of these plans will be working together to create a "launching pad", hope the organisers, for local brands who are looking to make a name for themselves on both the regional and global stage.

By Jonathan Fulwell (Source: Emilie-Alice Fabrizi)
Copyright © 2023 FashionNetwork.com All rights reserved.