Etam offers to buy back up to 26.5 pct of shares
By Lionel Laurent and Marcel Michelson

PARIS, April 15 (Reuters) - French clothing and lingerie maker Etam (TAM.PA) is offering to buy back up to 26.5 percent of its share capital in a deal worth up to 101 million euros.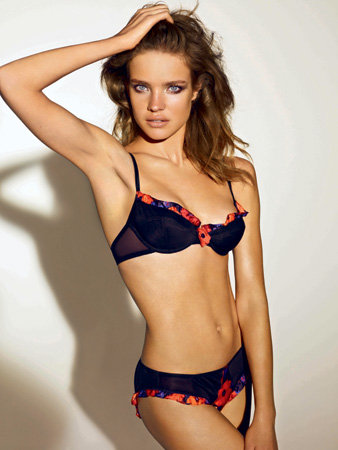 Natalia Vodianova for Etam, Poppy Love line
The company, which reported 1 billion euros in sales for 2009, is offering to pay 35 euros per share for up to 2.9 million shares, it said in a statement Thursday (15 April) evening.
Etam shares were suspended from trading on Wednesday 14 April after reaching a price of 30 euros, valuing the business at 323 million euros. Trading is to resume on Monday 19 April.
The purpose of the deal is to offer shareholders who want to sell the possibility of doing so at a premium while the group tends to its struggling European business, Chief Executive Laurent Milchior said on a conference call.
"There is a sizable reorganisation job ahead (for Etam) in Europe that will not bear fruit straight away ... We think it healthy to offer shareholders ... the possibility to exit," he said.
When asked whether Etam intended to delist entirely or sell itself, Milchior said neither was desirable.
Etam has been the subject of takeover speculation for several months, with some analysts expecting a bid from a private equity firm.
The Milchior and Tarica families, Etam's main shareholders, with 39 percent and 11 percent stakes, respectively, both said they would not take part in the buyback offer.
If the offer succeeds, their controlling 50.3 percent stake would rise to 68.5 percent, leaving a free float of 31.5 percent, Milchior said.
SHARE PRICE "FLOOR"
The deal could help set a floor for Etam's share price at around 35 euros, said one Paris-based analyst.
"It could serve as a price floor until eventually a new offer (from Etam) arrives," the analyst said, adding that Etam currently could not afford to buy up all the free float, nor would it want to sell to a private equity buyer.
The stock has risen threefold in the last 12 months due to cost-cutting and strong sales in China and France.
But Etam's first-quarter figures released on Thursday 15 April showed a 5.5 percent decline in sales in Europe. The company said it was working on turnaround measures after 10 successive quarters of declining sales in Europe on a like-for-like basis.
Etam has Czech model and actress Eva Herzigova and Russian model Natalia Vodianova as brand ambassadors. It sells more than 50 million items per year, with some of its collections designed by Lolita Lempicka.
The name Etam is short for the etamine fabric used in undergarment production.
Etam's history goes back to founder Max Lindeman in Berlin in 1916 and the 1928 opening of a shop on the fashionable Rue Saint Honore in Paris. It has been listed since 1997.
Rivals include Princesse Tam Tam and Hunkemoller of Germany.
Etam has been struggling to fend off fierce competition from fast-moving retailers such as Sweden's H&M (HMb.ST), Gap Inc (GPS.N) of the United States and Spain's Zara, owned by Inditex (ITX.MC).
Etam sold its British stores to Philip Green in 2005. (Reporting by Lionel Laurent and Marcel Michelson; Editing by Will Waterman and John Wallace) ($1=.7331 Euro)
© Thomson Reuters 2023 All rights reserved.