Escada CEO says bond swap will be close call
BERLIN, July 2 (Reuters) - The Chief Executive of German luxury fashion house Escada (ESCG.DE) said feedback for a crucial bond exchange to ensure the company's financial viability was mainly positive, but its success was uncertain.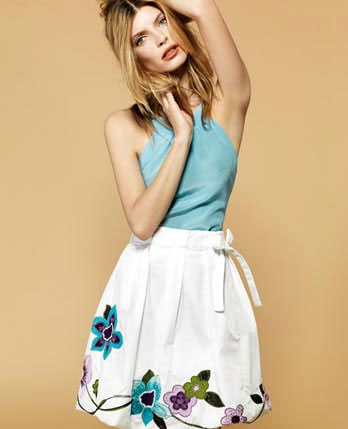 Escada Sport
Escada's future is entirely at the mercy of bondholders who have been asked to forego more than half of their investments as part of a rescue plan to avoid insolvency as early as August.
"Everything depends on this bond exchange," CEO Bruno Saelzer said in an interview on Thursday 2 July, on the sidelines of the Berlin Fashion Week.
The tender period to exchange the 200 million euro ($282.2 million) bond started on Monday 29 June and Saelzer said feedback was mainly positive. "But it will still be a close call," he added.
Escada -- known for draping stars like Christy Turlington and Katie Holmes -- needs an 80 percent approval rate to launch the next step of its rescue plan, an almost 30 million euro capital hike.
If the German fashion house manages to pull of its plan to cut debt -- 187.6 million euros as of the end of April -- raise cash and set up further credit lines, it will be financially secure to the end of 2010, Saelzer said.
Saelzer said he would then also consider applying for state aid to secure long-term growth but could not do so without first completing the bond swap as the company would not meet the various programmes' criteria.
"We have already looked into it," he said.
Escada shares, which dropped out of Germany's small-cap index .SDAX last month, were up 0.78 percent at 1320 GMT.
FALLEN ANGEL
Saelzer said demand for Escada's latest collection was stronger than expected, but the spring/summer 2010 collection may never hit the shelves. In recent years, Escada has been struggling to sell its clothes, which some have labelled old fashioned and the current global recession has compounded the difficulties.
"Escada is a fallen angel that's fallen several times," said Saelzer, who took over as CEO in July last year, having previously managed local rival Hugo Boss (BOSG_p.DE)
Escada rose to fame in the late 1980s and early 1990s, dominating the world's women fashion scene thanks to the colourful, eccentric designs by Margaretha Ley, who founded Escada with her husband Wolfgang Ley in 1976. She died in 1992.
It was clear to Saelzer from the start that Escada needed a major overhaul, but the turnaround went "faster than we expected".
Saelzer wants to move Escada further into day-wear fashion, which had been neglected for too long, he said, adding that he was also thinking about outsourcing the accessories business -- accounting for 7 percent of sales -- through licence deals.
Escada makes 88 percent of its sales outside of Germany and Saelzer said he expects Escada's largest market -- the United States -- to reach a bottom in the fourth quarter.
The CEO is also toying with the idea of launching a menswear line, having successfully established a womenswear section at suit maker Hugo Boss in his previous post. But such a move was currently not on the agenda, he said.
For now, all that mattered was that the bond exchange went through smoothly, Saelzer said. "Of course I hope but I don't know that it will (work out)," he said.
(Reporting by Eva Kuehnen; editing by Elaine Hardcastle)
© Thomson Reuters 2023 All rights reserved.