eBay's PayPal shut globally for an hour
SAN FRANCISCO, Aug 3 (Reuters) - EBay Inc's (EBAY.O) online payments service, PayPal, shut down worldwide for about an hour on Monday 3 August after the Internet retailer encountered "internal" problems with the fast-growing division.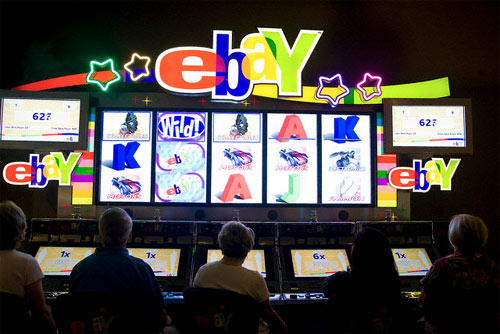 eBay themed slot machines in Las Vegas
The outage began at 10:30 a.m. Pacific Time and affected all users for about an hour. All customers had regained service as of 3:30 p.m., eBay spokesman Anuj Nayar said.
"I haven't heard the absolute clear definition of what happened from the engineering team yet," he said. "I can confirm that it was an internal problem, not an external problem."
EBay, facing increasing competition from Amazon.com (AMZN.O) and coping with weak business at its MarketPlaces auctions and retail division, had been relying on PayPal to help drive future growth.
PayPal, which accounts for roughly a third of eBay's sales but a smaller proportion of profits, has about 75 million active users and is the world's largest Internet-based payment system. It handles $2,000 a second in online transactions, Nayar said.
Sales at PayPal rose 11 percent while revenue slid 14 percent at MarketPlaces in the second quarter.
Analysts discounted a huge financial blow for eBay from Monday (3 August)'s incident.
"I wouldn't expect it to be a large monetary loss for them. Overall, PayPal is a relatively small part of eBay's profitability," Kaufman Bros. analyst Aaron Kessler said.
PayPal accounted for about 16 percent of eBay's profit in the second quarter, he added.
"An occasional server shutdown happens to a lot of companies. Obviously you don't want to have it happen more than a couple of times a year or you do start to have brand or reputation concerns. But we've seen issues with Google Inc (GOOG.O), Netflix Inc (NFLX.O), and Amazon.com Inc over the last couple of years, so I don't think an isolated incident is a huge deal for these companies.
"I don't think most people view it as material to their earnings or revenue," he said.
EBay shares, which gained 3.7 percent in the regular session, dipped 2 cents to $22.02 in after-hours trading. (Reporting by Clare Baldwin; Editing by Edwin Chan and Richard Chang)
© Thomson Reuters 2023 All rights reserved.