EBay's PayPal going offline, targets big retailers
July 21 - EBay Inc's PayPal business has become one of the largest online payment systems, but its now heading offline, Chief Executive John Donahoe said in the wake of the e-commerce company's quarterly results on Wednesday.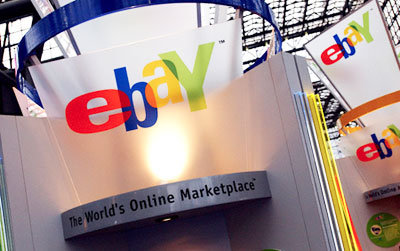 EBay said second-quarter net income was $283.4 million, or 22 cents per share -- down from $412 million, or 31 cents a share, a year earlier. - photo: corbis
"We intend to help retailers grow their businesses offline in the same way we helped merchants grow online," Donahoe said during a conference call with analysts.
PayPal will be testing "point-of-sale innovation" with a major U.S. retailer by the end of this year, he added.
During 2012, PayPal will roll out in-store payment services with up to 20 national retailers, Donahoe predicted, without identifying the companies.
EBay reported second-quarter results late Wednesday that were dented by acquisition costs, and the e-commerce company forecast third-quarter profit just below analyst forecasts, sending shares 1 percent lower to $32.58.
PayPal reported $1.073 billion in second-quarter net revenue, up 31 percent from a year earlier. That's the first time PayPal has generated more than $1 billion in quarterly revenue.
PayPal's growth has been driven by online payments. But Donahoe said on Wednesday that the boom in smartphone usage is blurring the lines between online and offline commerce.
"We've had merchants reach out to us quite aggressively, and saying they want us to bring PayPal into the Point of Sale," he added. "We see it as an incremental opportunity, and a fairly significant incremental opportunity that will play out over the next three to five years."
Ken Sena, an analyst at Evercore Partners, said investors want eBay to pursue the offline payments opportunity more aggressively.
One way may be to partner with daily deal companies including Groupon and LivingSocial, Sena said. Donahoe said eBay would consider such partnerships.
EBay has stressed that it's agnostic about what mobile payment standards emerge as the dominant technologies, arguing PayPal will work with all platforms.
Near-Field Communication, or NFC, is one emerging technology that may let shoppers buy with their mobile phones.
Evercore's Sena said eBay hasn't described a strategy to help create the main standard. The concern is that once the standard is established, PayPal may not be the main way to pay.
"That's dead wrong," Donahoe told Reuters on Wednesday. "Merchants will make the decision."
The only standard that will be accepted by big merchants will be one that accepts all payment systems, including those run by MasterCard, Visa and PayPal, he explained.
With roughly 100 million "wallets in the cloud" PayPal is too big to be excluded, Donahoe added.
COSTS, ADVERTISING
EBay said second-quarter net income was $283.4 million, or 22 cents per share -- down from $412 million, or 31 cents a share, a year earlier. The decline in earnings was mainly driven by costs from eBay's acquisition of GSI Commerce earlier this year.
"They are incorporating a new division and there are always costs associated with a large acquisition like this," said Bill Smead of Smead Capital Management, which owns eBay shares.
Smead also noted that eBay shares have peaked several times around $34.50 during the past 3-1/2 years.
"It might take a little more good news to get it through there," he said. "I'm not surprised to see a little selling as it approaches this level."
Excluding acquisition costs, stock-based compensation expenses and other items, profit was $630.9 million, or 48 cents per share, versus $530 million, or 40 cents per share, a year earlier.
On that basis, both the profit and the revenue beat expectations.
Analysts on average expected EBay to make 46 cents per share, according to Thomson Reuters I/B/E/S.
Revenue in the latest period was $2.8 billion, up 25 percent from the second quarter of 2010. Second-quarter revenue was expected to be $2.607 billion, according to Thomson Reuters I/B/E/S.
EBay said it expects third-quarter earnings per share to be 46 cents to 47 cents a share. Analysts were forecasting third-quarter profit of 47 cents per share, according to Thomson Reuters I/B/E/S.
EBay will increase marketing spending in the second half of 2011, after keeping such investments flat in recent years, Donahoe told analysts during Wednesday's conference call.
EBay will run television ads late in the third quarter and in the fourth quarter to try to lure more customers back to the company's online marketplace and attract new buyers, he noted.
"I've said for now a couple of years that we're holding off increasing marketing and focusing on our current customers until we get our user experience to the place where we feel it's ready," Donahoe said. "And we feel like we've passed that point now."
Gross merchandise value, or GMV, excluding vehicle sales -- a closely watched measure of activity on eBay's Marketplace -- rose 17 percent in the second quarter from a year earlier, to $14.7 billion, eBay reported.
Sena of Evercore Partners said growth in gross merchandise value "shows the marketplaces business is undoubtedly pretty strong" and that changes in pricing and to the site were paying off.
(Reporting by Alistair Barr and Phil Wahba; Editing by Gary Hill and Lisa Shumaker)
© Thomson Reuters 2023 All rights reserved.