DSW Q1 profit falls, outlook bleak; shares plunge
May 27 (Reuters) - DSW Inc (DSW.N) posted a 31 percent fall in quarterly profit, hurt in part by higher operating expenses, and forecast fiscal 2009 earnings below analysts' estimates, sending the footwear retailer's shares tumbling 15 percent. Net income for the first quarter ended May 2, 2009, fell to $7.1 million, or 16 cents a share, from $10.3 million, or 23 cents a share, a year earlier.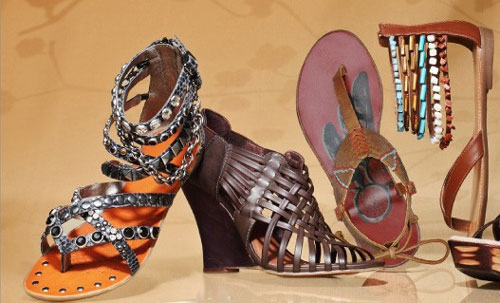 Sandals at DSW Inc
Net sales rose 5 percent to $385.8 million. Operating expenses for the quarter were up nearly 15 percent to $92.9 million.
Analysts were expecting earnings of 14 cents a share, before special items, on revenue of $379.5 million, according to Reuters Estimates.
For fiscal 2009, the company expects earnings of 30 cents to 35 cents a share, while analysts were expecting a profit of 40 cents a share.
The company anticipates a mid-single digit decrease in comparable-store sales in fiscal 2009 and expects to open about 10 new DSW stores compared with 41 new stores last year.
DSW's shares fell to $11.00 in trading after the bell. They closed at $12.97 Wednesday on the New York Stock Exchange. (Reporting by Amitha Rajan in Bangalore; Editing by Aradhana Aravindan)
© Thomson Reuters 2023 All rights reserved.