Douglas CEO says Mueller's stake hike no surprise
Jan 24 - German drugstore owner Erwin Mueller's move to further raise his stake in Douglas comes as no surprise to the fragrance-to-jewellery retailer, its chief executive said in response to statements by Mueller. Mueller told Focus magazine he had lifted his stake in Douglas to more than 10 percent from 6.4 percent and was considering going to 15 percent in the coming months.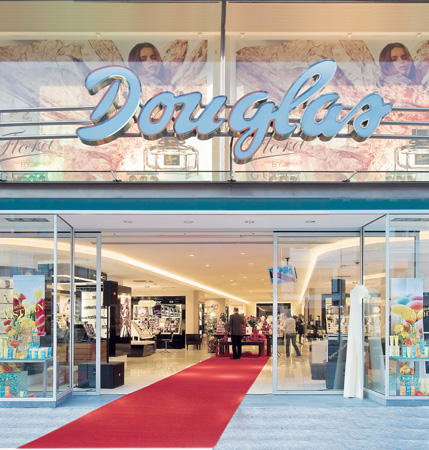 Douglas
Shares of Douglas gained after Mueller's statement. By 1348 GMT, they were 1.5 percent higher at 39.60 euros, outperforming the German mid-cap index, which was down 1.2 percent.
"Now, he is walking the talk, which is what we expected," Henning Kreke said in a statement e-mailed to Reuters on Monday.
"So nothing has changed from our point of view, because Douglas is in safe hands regarding its major shareholders," he added.
Douglas's biggest single shareholder is the August Oetker Finanzierungs- und Beteiligungs GmbH with a nearly 26 percent stake. Kreke's family owns just over 12 percent, according to Reuters data.
Mueller announced in late 2009 plans to gain a big stake in Douglas and said cooperation between the two companies in purchasing and logistics could cut costs.
"Douglas looked into a possible cooperation with Mueller but sees limited synergies," said Commerzbank analyst Juergen Elfers, who has a "hold" recommendation on Douglas shares.
"Cooperation between Kreke and Mueller is difficult to imagine, particularly in logistics," he said.
(Reporting by Matthias Inverardi; writing by Christoph Steitz and Maria Sheahan)
© Thomson Reuters 2022 All rights reserved.