Dior taking its time to replace Galliano
March 31 - French fashion house Christian Dior is in no hurry to replace disgraced designer John Galliano as it relies on existing teams for new collections, its head said on Thursday.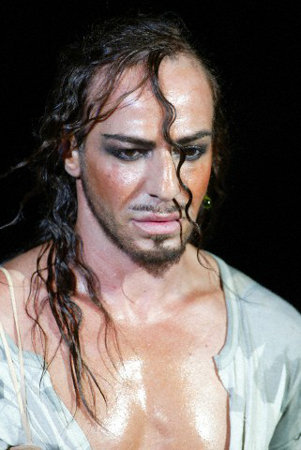 Designer John Galliano on the runway after his Christian Dior fall 2003 haute couture show.
Dior, one of the biggest brands within luxury goods group LVMH, sacked Galliano earlier this month following publicity over a video of him shouting abuse in a Paris bar and saying he loved Hitler.
Dior Chairman and Chief Executive Sidney Toledano said the company was studying possible replacements and the brand's creative development had not been interrupted.
Fashion magazine Elle reported this week that Dior might not announce Galliano's replacement before the autumn.
"(The announcement) could come at any time, after (the autumn) or before," Toledano told Reuters after LVMH's annual shareholder meeting in Paris.
"It requires a period of study of various projects. As our internal teams are working perfectly well, we have time."
Toledano said the brand's teams were working on a new cruise collection and that there would be a Dior haute couture show in early July as planned.
"There is no interruption at all," he said. "No blanks in the calendar of creations."
It is not clear, however, what will happen to the John Galliano brand of which Dior owns 92 percent. Toledano said it was for Dior to decide its future but he declined to elaborate.
Fashion critics said Galliano, known for his theatrical and dramatic styles, had grown out of touch with minimalist, sober and conservative designs favoured after the financial crisis.
Possible contenders to replace Galliano include Peter Copping at Nina Ricci and, within the LVMH group, Riccardo Tisci at Givenchy and Phoebe Philo at Celine.
Oscar-winning actress Nathalie Portman, now promoting Miss Dior Cherie perfume, publicly condemned Galliano for his comments and said she no longer wanted anything to do with him.
LVMH, the world's biggest luxury group, this month agreed to buy Roman jeweller Bulgari for 3.7 billion euros, its biggest acquisition in a decade.
The group, which makes 9 percent of its sales in Japan, on Thursday said the nuclear crisis in the country had only affected trading in the east and north of the country.
But overall, LVMH Chief Executive Bernard Arnault said: "The impact should be quite limited, despite everything."
Arnault said the group had made a donation of 500 million yen ($6.03 million) to help rebuild Japan.
LVMH shares, which have lost 9 percent since Jan. 1 after being the best performing stock in the CAC 40 index last year, were up 0.72 percent at 112.45 euros by 1244 GMT.
By Astrid Wendlandt and Pascale Denis
(Editing by Christian Plumb and David Cowell)
© Thomson Reuters 2022 All rights reserved.