Dior, Lanvin feel optimistic as rich buyers return
PARIS, Oct 1 (Reuters Life !) - Optimism is in the air at fashion houses Christian Dior and Lanvin, both on the catwalk and in the shops.


Christian Dior S/S 2011 at Paris Fashion Week
Consumers are opening their wallets again according to the heads of Dior and Lanvin, with demand climbing back, in Europe and in Russia and remaining strong in Asia.
"People have started buying again," Dior Chief Executive Sidney Toledano told Reuters after the company's Tahiti- themed show. "It is true in Europe and in New York where I was last week."
Dior is part of LVMH (LVMH.PA), the world's biggest luxury group whose other brands include Kenzo and Celine.
Echoing Toledano, Lanvin's head was just as confident about his business' future.
"For luxury, the crisis is over," Lanvin Chief Executive Thierry Andretta told Reuters on the sidelines of the fashion company's show on Thursday.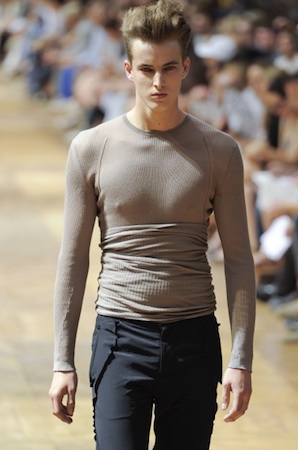 Lanvin Menswear SS 2011 at Paris Fashion Week / Photo : Pixelformula
"Consumption is back in Europe... and the market has picked up again in Russia... There was a time when our affluent clients did not want to spend, but now it is over."
Andretta said Lanvin was developing accessories -- traditionally the most profitable part of a fashion business -- with handbags, jewellery and shoes now making up about half of total sales.
And Lanvin shoes and jewellery were displayed prominently on the catwalk with models wearing big butterflies around their necks and strutting on thin matching stilettos.
Elbaz produced an airy 2011 spring/summer collection which included flowing drapes held together by a thick brown leather belt, see-through short dresses and pleated mini skirts and tops.
It also included comfortable-looking stretch dresses and skirts worn over leggings, meant to look like a second skin.
"When I started with second skin... then I realised that fashion is not really about dressing your body, it is about dressing your heart and your head," Elbaz said after the show.
Meanwhile at Dior, the maison's optimism regarding consumption matched its designer's sunny mood.
Next spring and summer, the Dior woman will be wearing, warm, tropical colours such as turquoise, bright green, fuschia and canary yellow.
Striking pieces also included a long, flowing turquoise evening gown with embroidered and dangling coloured flowers and a nearly transparent, short, ruffled purple dress.
Dior designer John Galliano said his collection had been inspired by the 1962 film "Mutiny on the Bounty" with Marlon Brando.
"Amazing," model Kate Moss told Reuters of the Dior show as she walked out from the back-stage after having kissed Galliano.
Other front-row celebrities included the French best-seller writer Frederic Beigbeder as well as actresses Marisa Berenson and Lou Doillon.
(Additional reporting by Pascale Denis)
© Thomson Reuters 2023 All rights reserved.