Dick's Sporting throws UK's JJB Sports a lifeline
LONDON - U.S. retailer Dick's Sporting Goods Inc is investing 20 million pounds ($31.8 million) in Britain's JJB Sports, throwing a lifeline to the loss-making UK chain and signalling international ambitions for the U.S. business.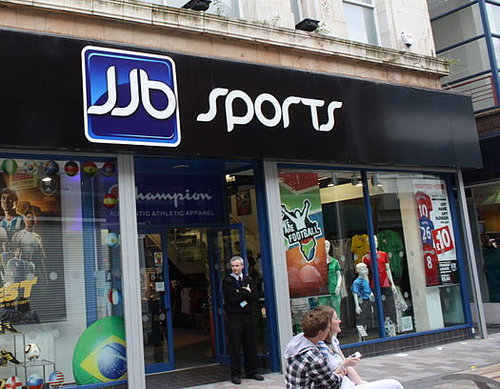 Photo: Ardfern
Dick's, which runs over 550 stores in the United States, said on Thursday the deal would eventually see it become a controlling shareholder in JJB and would act as a "stepping stone" to its future growth and development.
JJB said the deal, along with a separate agreement with key supplier Adidas, would help it to accelerate a turnaround plan which has included closing stores and revamping others to focus on sporting families and keen amateurs.
Britain's retail sector has seen a string of household names including Woolworths and MFI go out of business in recent years as cut-price competition from supermarkets and the internet has been exacerbated by a squeeze on consumer incomes due to rising prices, muted wages growth and government austerity measures.
JJB, which has been battling to secure its future for over three years, has also suffered from the success of larger rival Sports Direct.
Dick's said it would purchase 18.75 million pounds in junior secured convertible notes and 1.25 million pounds in ordinary shares of JJB Sports, subject to approval of the Wigan, UK-based company's shareholders.
Pittsburgh-based Dick's has also received an option to buy an additional 20 million pounds in junior secured convertible notes of JJB in connection with a follow-on financing expected to take place in the first quarter of 2013.
Upon full conversion of the notes, Dick's, the largest publicly traded U.S. sporting goods retailer, would become a controlling shareholder of JJB.
"This is an exciting strategic investment that provides us with a valuable introduction into the workings of the United Kingdom sporting goods market from an established company that shares our commitment to serving the needs of core athletes," said Dick's chairman and chief executive Edward W. Stack.
FASTER TURNAROUND
Shares in JJB, with more than 180 stores in Britain and Ireland, rose to a six-month high of 21 pence in early trade on Thursday, valuing its existing equity at 59 million pounds.
"We believe that the investment package and strategic alliance with Dick's will provide a real opportunity to accelerate JJB's turnaround," JJB boss Keith Jones said.
A restructuring agreement with its landlords prevented JJB falling into administration a year ago, and store closures have helped it to narrow its losses against a backdrop of continuing challenging trading.
"Looking ahead, the ongoing credit squeeze on consumers and weaker UK employment numbers creates a tough environment," it said on Thursday.
"However, the platform we have built over the past 12 months and the strategic investment and financing package that the company has announced today have given JJB a chance to complete its turnaround programme."
Its adjusted loss before taxation for the year to Jan. 29 narrowed to 53.9 million pounds from a loss of 73.3 million a year earlier, it said.
Revenues from continuing operations fell 21.7 percent to 284.2 million pounds, while in the nine-week period since its year end to April 1, group like-for-like sales fell 5.7 percent.
As well as the Dick's Sporting Goods deal, some existing investors are contributing 10 million pounds in funding and it has agreed a financing package with Adidas, which will provide security for a two-stage loan of up to 15 million pounds.
Dick's will be entitled to nominate up to two non-executive directors to serve on the board of JJB.
© Thomson Reuters 2022 All rights reserved.