Diane von Fürstenberg teams up with Marchon Eyewear
Optics specialists Marchon Eyewear, who have in their portfolio the brands Calvin Klein, Emilio Pucci, Fendi and Jil Sander, have signed a contract with Diane von Fürstenberg. The objective of this new partnership: design and produce sunglasses and lenses with the DVF label.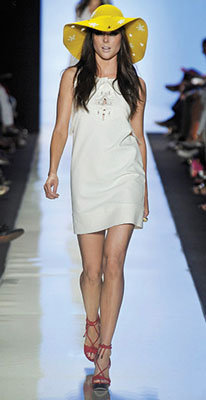 Spring-Summer Collection 2009 - Diane von Fürstenberg
"The designs of Diane von Fürstenberg are classic whilst still being daring. We can't wait to translate this spirit into a new collection of sunglasses and lenses," explained Al Berg, president and director general of Marchon.
By his side was Diane von Fürstenberg, who created her label in 1972. She added, "glasses are necessary, they protect but they can also be a glamourous accessory. I wanted to work with a group that knows how to combine technical prowess and fashion. And nobody does that better than Marchon."
The fruits of this collaboration between Marchon and Diane von Fürstenberg will be unveiled in January 2010. These collections of sunglasses and lenses will be available in von Fürstenberg stores as well as in large shops and specialised boutiques.
With this new contract Diane von Fürstenberg is working with optics anew, having previously designed sunglasses in the seventies.

By Jonathan Fulwell (Source: Sarah Ahssen)
Copyright © 2023 FashionNetwork.com All rights reserved.