Designers, celebrities woo shoppers around world
NEW YORK - Department stores, designers and celebrities wooed economically battered shoppers around the world on Thursday during the third annual "Fashion's Night Out" event to encourage spending and raise money for charity.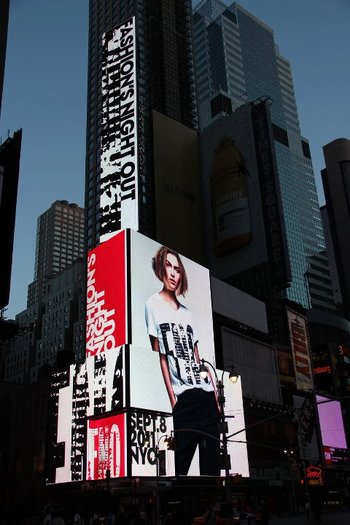 FNO's campaign in Time's Square, NYC
"Fashion's Night Out," the brainchild of Vogue magazine editor Anna Wintour, was designed to jump-start an industry battered by the global recession. Shops were staying open late and offering drinks and entertainment to shoppers in Australia, Asia, Europe and 100 U.S. cities from New York to Los Angeles.
"What I love is to see youngsters," Dior Chief Executive Sidney Toledano told Reuters in Paris, where thousands thronged the fashion mecca of Avenue Montaigne, home to Dior and to flagships for other luxury brands such as Chanel and Gucci.
"All (these young people) will not become clients, but we need to seduce them today to have them tomorrow," he said.
With luxury retailers recovering nicely from the recession, some stores were using the initiative, which coincides with the first day of New York Fashion Week, to raise money for charity with limited-edition pieces.
Almost 100 designers are showing their collections for spring/summer 2012 at New York Fashion Week and dozens more are showing at other venues in the city to coincide with the semi-annual event. It is followed by fashion weeks in London, Paris and Milan.
Fashion devotees and cheering teenagers swarmed the narrow streets of Milan's fashion district for "Fashion's Night Out," many snapping up limited edition T-shirts and bags.
"This event puts us in touch with younger people," Versace Chief Executive Gian Giacomo Ferraris told Reuters. Versace recently announced a collection for retailer H&M (HMb.ST).
Veronica Etro, who runs Etro with her brothers Ippolito, Jacopo and Kean, said it was "not a proper retail event."
"Many enter a luxury store for the first time. Fashion can be intimidating, but it should not be taken too seriously," she said as dozens of shoppers lined up for a 30 euro T-shirt featuring a colour flag that was raising money for charity.
Critics have questioned whether the event has served its purpose now that luxury retailers are doing well.
HIGH-END STORES FARE WELL
While the U.S. economic recovery is wavering and consumer confidence wallows at a two-year low, high-end department stores are seeing the largest gains in sales and U.S. retail sales in July showed their biggest increase in four months.
"(Fashion's Night Out) was a good idea when it began, back in the depths of the recession when stores were virtually empty," New York Times fashion critic Cathryn Horn wrote in a recent column. "But now it's become a party."
"Though it apparently raises money for some causes, I have to believe that the costs of security, crowd control and entertainment, not to mention the traffic headaches, outweigh the actual benefits," she said.
Many retailers said they did not measure the precise economic impact of the event and some have conceded it was more of a social and charity event than sales boost.
"I look at the style and then I buy the things in shops which are less expensive and which are inspired by what we see in luxury," said Stephanie Beast in Paris.
But other shoppers said they came armed with their purses because they enjoyed making purchases on such evenings.
"This event definitely encourages you to buy," said Kristel Valladon, 30, a makeup artist who was about to buy a pair of Barbara Bui metallic gray low boots, studded with crystals, costing 1,635 euros.
Jean-Michel Lagarde, deputy chief executive of Barbara Bui, said some customers also came back later to buy. "Fashion Night Out brings us business for sure," he said. "So we think that we should have a good (sales) weekend."
In New York, Valentino is donating 50 percent of proceeds from a special edition T-shirt to the Stiller Foundation, which builds schools in Haiti, Dolce and Gabbana is giving proceeds to Pencils of Promise, an educational charity, and Barneys New York is donating 10 percent of sale proceeds from the evening to the National September 11 Memorial and Museum.
Fashion and retail is one of New York's largest industries, employing 165,000, which accounts for 5.5 percent of the city's total workforce. It generated $9 billion in wages in 2009 and the city is home to more than 900 fashion companies.

(Additional reporting by Astrid Wendlandt in Paris, Antonella Ciancio in Milan, Phil Wahba and Martinne Geller in New York; Editing by Mark Egan and Peter Cooney)
© Thomson Reuters 2023 All rights reserved.