David Beckham becomes designer for Victoria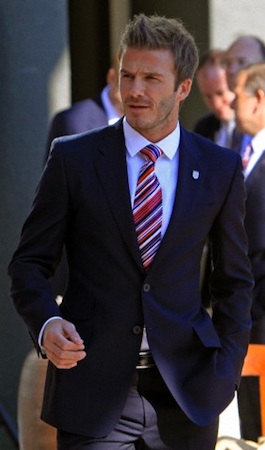 David Beckham
LOS ANGELES, August 2 - Victoria Beckham makes the most of her loved one. Apparently, the former singer and now fashion designer, has succeeded in convincing her husband, football star David Beckham, to design a new line of clothing for men. This will contribute to the DVB brand Victoria created herself.
According to articles published in the American newspaper 'Daily Star', David Beckham has agreed to work for his wife. In fact, the athlete is already working on the new menswear collection for autumn-winter 2010/2011.
"Victoria has been trying to convince him for a long time and he has now finally succumbed. She assured him that he has a good eye for fashion," said an anonymous source.
Apparently, Victoria, 36, is delighted with the efforts being made by her husband. "David hopes to make a menswear line with tailored suits, smart clothes for day and night," the source added.
This is the first time that David and Victoria are working together, but the former member of the Spice Girls has also revealed on more than one occasion the enthusiasm that her seven year old son Romeo, feels for her career.
"The other kids just want to go to the beach, however he (Romeo) is really not interested. He repeats, 'I want to work with Mommy' and sits there looking at the collection, touching the fabrics, giving his opinion. He loves its", said Victoria who is also mother of Brooklyn, 11 and Cruz, 5.
Copyright © 2022 Europa Press. Está expresamente prohibida la redistribución y la redifusión de todo o parte de los contenidos de esta web sin su previo y expreso consentimiento.